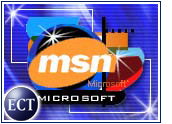 Microsoft (Nasdaq: MSFT) rose US$2.76 to $70.80 in morning trading Friday, after topping estimates for the third quarter ended March 31st.
Analysts at Salomon Smith Barney, Thomas Wiesel Partners and Goldman Sachs reportedly upgraded Microsoft after the results were released.
"Results were strong across all businesses, and came in a little better than we expected," Microsoft chief financial officer John Connors said.
Strong sales of Windows 2000 and "accelerating demand" for Microsoft's .NET enterprise server products were of particular note, Connors said. Windows 2000 Professional accounted for 35 percent of all 32-bit operating systems shipped during the quarter, up from 31 percent in the preceding quarter, Microsoft said.
The Redmond, Washington, software giant said that revenue for the quarter rose to $6.46 billion, from $5.66 billion in the same period last year. Net income of $2.45 billion, or 44 cents per share, was higher than the $2.39 billion, or 43 cents, earned in the year-earlier quarter.
The company, however, sounded a cautionary note about overall market conditions.
"Despite this quarter's solid performance, we continue to be mindful of thecurrent economic climate and the impact it may have on business and consumer demand," Connors said.
Revenue for the quarter ending in June is likely to total $6.3 billion to $6.5 billion, with earnings per share of 41 or 42 cents, Microsoft said. Results will include a penny-per-share charge for the acquisition of Great Plains Software.
For the year ending in June 2002, the company predicted revenue of $28 billion to $29 billion, with earnings per share of $1.90 to $1.94.