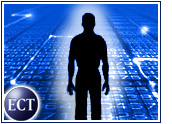 Microsoft's monopoly status led to its landmark antitrust trial. Now, its corporate foes and several state attorneys general are out for blood as the company's ultimate punishment is decided by the courts.
Despite the software giant's legal woes, it has forged ahead in a number of areas, including e-commerce. According to figures from research firm Giga Information Group, Microsoft generated US$135 million in revenue from e-commerce products and client services during 2001.
But as the software giant grows its e-business presence, experts say it is unlikely to dominate the field in the same way that it dominated the desktop, especially in the short term.
E-commerce is such a wide-open industry, they said, with so many large and small players, that no company can hope to control the majority of infrastructure or applications.
Not Like the Desktop
Giga analysts pegged Microsoft's current share of the e-commerce market at between 18 and 20 percent.
"That's not desktop-level dominance by any means," Giga senior analyst Andrew Bartels told the E-Commerce Times. "Microsoft's strength … does not stretch to the e-commerce area yet."
The company is squaring off not only against traditional rivals like IBM, Sun and Oracle, but also against dozens of smaller, specialized software companies with established niches in the e-commerce sector.
Bartels noted that because Microsoft's legal troubles led to increased scrutiny of its Internet Explorer strategy, resulting in a move to unbundle the two products, the company will find it harder to translate desktop dominance into e-commerce power.
Different Focus
Yankee Group program director Jon Derome added that Microsoft's overall e-business strategy is based more on infrastructure and service programs than on software dominance. That being the case, the company will have to build a user base without relying heavily on its existing advantages.
Microsoft's current e-commerce efforts, for example, include its Commerce Server transaction applications and bCentral services geared toward small and mid-size businesses.
"Microsoft seems to be heading in the direction of an inter-enterprise or B2B type of operating system for e-commerce," Derome told the E-Commerce Times.
Flak over Passport
Experts noted, however, that Microsoft's e-commerce forays have not been entirely free of controversy. A key bone of contention is the company's long-term .NET strategy.
For example, the Passport system, which is one part of that strategy, lets users establish a universal online identity by storing personal information in a single place.
But many consumers and businesses oppose Passport because it allows a single company to control so much personal information. And the system has raised other worries related to privacy and security.
Last year, the Liberty Alliance — a group of 30 major technology and commerce companies including Sun, Cisco, eBay and General Motors — announced plans to develop its own digital security program to challenge Passport.
Microsoft has since joined the alliance in an effort to smooth out security and access standards and deal with turf issues.
Antitrust Remedy Pivotal
Giga vice president Rob Enderle contended that the ultimate impact of Microsoft's monopoly status on its e-commerce efforts cannot be determined until the antitrust case is settled. In general, he said, the company will not change its course in any market segment unless it is forced to do so.
"Microsoft resists any type of external controls and will do what is necessary to stay with its plans," Enderle told the E-Commerce Times, although he noted that possible effects on .NET of an antitrust settlement remain a question mark.
Looking at Europe
Yet another variable is related to events unfolding in Europe. Enderle noted that the European Union is deciding on its own remedies in response to Microsoft's past practices, and he said that any actions taken on the Continent could have repercussions for Microsoft's role in the e-commerce arena.
Enderle predicted that the way in which Microsoft interacts with fellow members of the Liberty Alliance will probably have the most noticeable effect on the sector.
"Microsoft's involvement in the Liberty Alliance could be more important for e-commerce than what comes out of the court case," Enderle said.