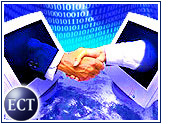 Oasis, a consortium including IBM, Hewlett-Packard and Sun Microsystems, announced Thursday that it will start to integrate a competing e-commerce standard being developed by Microsoft.
The consortium, which is working under the auspices of the United Nations to develop a standard for e-business transactions, said that "efforts are now underway to integrate" the Microsoft standard, known as SOAP or Simple Object Access Protocol, into the Oasis standard, known as ebXML.
The move marks a turn in the road for Oasis, which had previously resisted use of the Microsoft e-commerce standard.
"Having the messaging infrastructure of ebXML built on SOAP is a strong signal that standards convergence is both desired by the industry and doable," said Dr. Robert S. Sutor of IBM, vice-chair of ebXML and a member of the Oasis board of directors.
Sutor added: "As ebXML evolves, we will continue to explore how we can cooperate with others to help develop the foundational open standards for business on the Internet."
Common Ground
According to Oasis, the goal of ebXML is to facilitate the trade between companies, regardless of size or networking language, and to use XML (extensible mark-up language) in a consistent manner to exchange electronic business data.
The integration of the two standards "will result in an open, widely adopted global standard for reliably transporting electronic business messages over the Internet," Oasis said.
"The convergence of these two specifications marks a significant step forward for interoperability," commented Klaus-Dieter Naujok, chair of ebXML and member of the UN body overseeing the work of Oasis. "We're committed — not only to integrating ebXML messaging with SOAP — but also to completing this work in time to meet our original goal of delivering ebXML in May 2001."
Merging Roads
Although operating on different schedules and with slightly different agendas, both sides were working to develop a common standard for all e-business transactions to use.
However, according to published reports, IBM had dismissed Microsoft's SOAP standard as "lightweight," while Microsoft had criticized the IBM effort for taking too much time. Microsoft turned over its SOAP standard to the World Wide Web Consortium for consideration in May 2000.
The ebXML standard is part of an international initiative established by the UN Centre for Trade Facilitation and Electronic Business (UN/CEFACT) and Oasis in late 1999. The group had the mandate to undertake an 18-month program to research and identify the technical basis on which the global implementation of XML can be standardized.
Headquartered in Geneva, Switzerland, UN/CEFACT has developed and promoted many tools for the facilitation of global business processes, including UN/EDIFACT, the international electronic data exchange (EDI) standard.
Streamlined Approach
The ebXML standard incorporates a set of services and protocols that allow an electronic business client to request services from e-business servers over any application-level transport protocol, including simple mail transfer protocol (SMTP), used for sending e-mail, and hypertext transfer protocol (HTTP), used by the World Wide Web.
ebXML defines a general purpose message, with a header that supports multiple payloads, while allowing digital signatures within and among related messages. Although the header is XML, the body of the message may be XML, multipurpose Internet mail extensions (MIME) or virtually anything digital.
"By adopting SOAP in their messaging layer, ebXML puts to rest any worries about interoperability between SOAP and ebXML," Microsoft XML architect Andrew Layman said. "This takes advantage of SOAP's role as a key component of XML-based messaging."