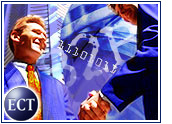 More than 20 of the world's leading high-tech companies, including Microsoft, IBM, Commerce One and Intel, announced Wednesday they have banded together to form a think tank that hopes to address implementation challenges for e-business.
One of the biggest tasks for the new non-profit corporation, the Business Internet Consortium, will be to develop ways for various e-business software packages to communicate with each other.
"The time is ripe for a practical e-business think tank to emerge," said Larry Acord, director of strategic business alliances for participating firm Computer Associates.
"The extremely rapid evolution of e-business technology can be as much of a problem for customers as a blessing," Acord said, "unless the leading developers of that technology can bring some coherence to the market through collaboration and cooperation."
According to consortium members, up to 30 percent of the gross national product of the United States in the next 5 to 10 years could be affected by business-to-business (B2B) e-commerce. However, if various versions of e-business software cannot work together, this growth will be slowed, the think tank said.
Customer Input Solicited
The companies involved said that the new Business Internet Consortium will be the "industry's first" to solicit direct input from consumers on their e-business requirements. Customers who have joined the consortium include Capital One, Charles Schwab, Ford Motor Company and Reuters.
"Implementing e-business solutions worldwide requires a massive cooperative effort — the likes of which the industry hasn't witnessed in the past," said Will Swope, vice president of Intel Solutions Enabling Group.
"Vendors, customers, business decision makers and [information technology] managers must all work together in an open computing model, one that promotes the use of flexible computing solutions to support future Internet economy growth," Swope added.
Studies Underway
The Business Internet Consortium has already formed working groups to address several key topics facing both e-business software suppliers and customers, including the use of XML and other technologies to transform traditional business practices into e-business practices.
Additionally, the think tank will study integration of existing systems with new e-business solutions and architectures, and establishment of secure systems that do not require "users to continually log on to the system."
The group also plans to study ways to improve access to e-business information from multiple devices, including both PCs and mobile phones.
Working group results will be published in white papers and reference designs.
Other Consortiums
The Business Internet Consortium is not the first alliance of competing companies hoping to standardize the world of e-business. Other efforts include Microsoft-led BizTalk, an industry initiative aimed at "driving the rapid, consistent adoption of XML to enable electronic commerce and application integration."
Another XML consortium, Oasis — which is backed by Sun Microsystems, Oracle, IBM and others — provides an online library of XML schemas.
Notably, Oracle and Sun Microsystems have not signed on with the Business Internet Consortium, although they were invited to do so. However, organizers do not view their absence as a concern.
"If we get this running, all people will want to drink from the same pond," Swope said in news reports.