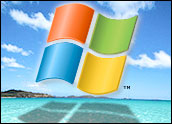 Microsoft reported strong revenue and solid earnings Thursday, with particular strength in Windows sales during its first fiscal quarter ending September 30. Revenue set a Q1 record of US$16.20 billion, up 25 percent year-over-year. Net income was a healthy $5.41 billion.
CFO Peter Klein pointed to strong consumer demand for Office 2010, Windows 7 and Xbox 360 consoles and games as the spur to growth. Yet it was spending on Windows 7 and Office 2010 that got the attention of analysts.
"Microsoft's biggest strength is Windows. They're doing a yeoman's job," Rob Enderle, principal analyst at the Enderle Group, told the E-Commerce Times. "Office 2010 has done very well. In a slow IT year, they've performed surprisingly well."
More to Come
The first-quarter performance didn't reflect two revenue boosters that have just recently been introduced.
Microsoft recently launched its new Windows Phone 7 operating system, and HP just introduced an enterprise-oriented tablet, the Slate 500, that runs Windows.
"Revenue for those won't show up until next year," said Enderle. "The lack of revenue from those two products held them down a bit."
Microsoft performed well with long-term product groups.
During the quarter, Microsoft delivered year-over-year growth in all of its business segments. Office 2010 jumped like a racehorse out of the chute, growing 15 percent in its first full quarter. After its Vista disaster, the company is doing well with Windows 7.
Competitive Struggles
Xbox console sales grew 38 percent. Microsoft claimed the Xbox has been outselling every competing console in the United States for the past four months. It also claimed its Bing search engine is grabbing marketshare.
As for hurdles and threats going forward, the company acknowledged it is facing intense competition in all of its markets. Other potential risks it identified include difficulty in attracting and retaining talented employees, as well as competitive challenges to cloud-based computing.
Microsoft is facing powerful competition on all fronts except Windows and Office. In many segments, its products are falling short of its top-tier competition.
"There's a need for new products from Microsoft," said Enderle.
Apple's stellar success has made Microsoft look as though it's been falling behind in the tech market.
"The comparison to Apple hurts them," acknowledged Enderle. "[HP's Windows tablet] is not competitive. It's not in the same league with Apple's iPad. Apple has outperformed everybody — Dell, HP. They're the company to beat in tech."
Uncertainties With New Products
While Microsoft's performance was impressive, not everyone believes the company has much to brag about — particularly since much of the performance came from new editions of existing products.
"Microsoft did well in its first quarter, but that's just because they were doing a refresh cycle of Windows 7 and Office 2010," Azita Arvani, principal of the Arvani Group, told the E-Commerce Times. "They're still not out of the woods. They're up a little bit in search — for market share, anyway. But we're not seeing much revenue."
One of the greatest unknowns for Microsoft's competitive environment comes from the mobile market of phones and tablets.
"With mobile, they have a lot of work to do. They might be able to make themselves competitive with Windows Phone 7, but the jury is still out on that," said Arvani.
On the tablet front, there are still uncertainties over what system Microsoft will use.
"The tablet is unknown. Will it have the Windows 7 system or will it have the Windows Phone 7?" said Arvani. "They will probably go with Windows 7 …, but they probably won't be competitive at first."
Cloud computing is also an unknown at Microsoft. With the departure of Ray Ozzie this month, its will be difficult see the company's commitment to the cloud.
"It's hard to know who is going to champion cloud computing now that Ozzie is gone," said Arvani. "It's hard to know how serious they're going to be, and whether they need to fortify it within the company."