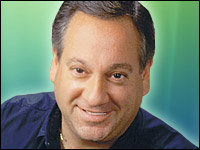 Microsoft has been trying to crack open the enormous opportunity in the cellular industry for a decade. CEO Steve Ballmer always says the company's software is terrific, but it has never seemed to move the needle. Could that be about to change? Microsoft is about to release its newest version, Windows Phone 7, and we are about to see.
This will be the one, according to Ballmer. Of course, he is one of the most optimistic people in the world — so as nice a guy as he may be, I think it is important to dig a little deeper.
The mobile space is one of the most important opportunities for Microsoft to do well as it evolves. The company has led the computer operating system space forever, but the opportunities for growth and success are much different in 2010 than just a few short years ago. And going forward, they will continue to change.
As this evolution occurs, Microsoft will have to embrace and lead in at least one of the new segments in order to continue to grow. The mobile space is perfect, if it can crack the code. The space is young, and new leaders like Apple and Google are making waves.
Microsoft has been trying for a decade, competing against RIM and Palm and assorted other smaller players. It doesn't make its own devices. Instead, it makes the software that runs on different devices. In that way, it is like Google, with its Android operating system.
If Microsoft gets this right, it could be a rapid growth opportunity. Want proof? Just look at what's been happening in the last few years with the Apple iPhone and Google's Android OS. They are turning the wireless space on its head, and they are not even wireless companies.
Their success is proof that this space is ripe, and what Microsoft is trying to do can indeed be done. The next question is why hasn't Microsoft succeeded yet? After all, it got there first.
Room for Another Winner
The obvious answer is that its previous operating systems just didn't excite people. They simply didn't buy. Now the marketplace is changing. Customers are rewarding companies that offer what's new. In that vein, Microsoft will offer around 100 apps, I am told. Compare that to Apple's several hundred thousand Apps. Quite a difference.
Microsoft carved out about 10 percent market share in the mobile space over the last decade through sheer persistence, but that dropped to less than 5 percent after Apple and Google jumped in. The marketplace is starting to get excited to see what Microsoft's new OS can do.
Is there room for another success? Yes, there is. Whether Windows Phone 7 will be the next one is the question. There is reason to be hopeful, but what I am hearing so far sounds a little one way and a little the other.
When Apple jumped in with the iPhone, we asked the same question. Then, when Google jumped in behind it with Android, it began growing even faster. That is proof there is plenty of room for multiple great operating systems.
There are plenty of OSes in the marketplace that just are not cutting it. There is an opportunity, but it is up to Microsoft — and how great this operating system really is — to determine whether it will succeed in the big way the company needs.
One thing is for sure — we will know pretty quickly. Within the first few weeks, we will get a good feel, and within the first few months, we will know for sure. Will this be the killer app Microsoft has been trying to create over the last decade?
These devices are not always successful right away. Apple was with its iPhone, but Google was not with Android. The first Android smartphone was available only through T-Mobile, and it was only a so-so success. A year or two later, Android hit the big time when a wave of new smartphones from multiple handset makers became available on multiple networks. Customers loved it. The media loved it.
BlackBerry led in smartphone sales over the last decade, but it is losing ground to the iPhone and Androids. RIM refreshed its BlackBerry OS. and the new version is much better — but it is not as advanced as the others. It also has few apps. Palm's new software is better than what was previously available, and now it is announcing an even newer version, but it just doesn't capture the imagination of the marketplace — and it's another company with few apps.
Could apps be one of the keys to determining whether Microsoft will be successful or not?
Samsung, HTC, LG and others are all trying to hit the magic spot. Sanjay Jha, co-CEO of Motorola says he will look at this new OS for upcoming models as well.
The first three devices running Windows Phone 7 are the Samsung Focus, the HTC Surround and the LG Quantum. One big attraction to a certain segment of the marketplace is its ability to access some Xbox Live features. That could be a very important draw.
Soon the Story Will Be Told
Microsoft has a lot of support. Andy Lees, president of the mobile communications business at Microsoft, says HTC has been a partner since it entered the mobile phone space a decade ago. Peter Chou, the CEO of HTC, and Jason Mackenzie, president of HTC Americas, have offered continued support.
Brand new president and CEO of T-Mobile, Philipp Humm, would like nothing more than a home run with Microsoft to start his new game. Similar sentiments come from Paul Cole, VP of product management at T-Mobile. Cole Brodman, the chief marketing officer at the company, is also hoping Windows Phone 7 will be successful.
There is a lot of excitement building, and Microsoft is really pulling out all the stops to make the Windows Phone 7 launch bigger and better. Will it work?
This OS will be on many phones and on many networks, including AT&T Mobility, Verizon Wireless, Sprint, T-Mobile, U.S. Cellular, Cellular South and others.
I expect to see devices and operating systems all competing for a share of this exploding new market. Newcomers to the space like Lenovo and Dell — and even Nokia and Motorola are good possibilities for Microsoft.
The first networks to carry Windows Phone 7 devices are AT&T and T-Mobile. This should prove to be a good, quick test.
The customers will tell us whether they love it. The media will write about it, and that will drive much of the story. Microsoft could finally start to grow again. Hopefully, it will hit the target this time. Microsoft is a good company that needs this new opportunity for growth.
After the Windows Phone 7 release, one of two things will happen. Either it will be a big hit, or it will not. If not, Microsoft will either work with passion and energy and roll out the next version, or it will not. We have never really seen this kind of energy from Microsoft, but that would be a good sign, Steve… hint, hint.
One thing above all, it must WOW the marketplace to win. The customers, the media, the investors, everyone. Its new version must be different and better than what is already in the marketplace — not just better than previous versions. Today the marketplace is a take-no-prisoners battlefield. So far, it has done a great job lining up all the support.
I read Walt Mossberg's report in The Wall Street Journal last week. He was impressed, but does not think Windows Phone 7 is good enough to challenge Apple and Android. If that is the case, then Microsoft could learn what it needs to do and make the next version the "killer app."
So far, I am not convinced Windows Phone 7 will topple the iPhone and Androids, but it could come on strong. That would be very good for this first effort. A good place to start.
One thing I have learned is that Microsoft just does not give up. So now we wait for the release. Will this be the magic bullet? Will this compete head-to-head with the current leaders? We are about to find out.
Jeff Kagan's Pick of the Week: Clearwire Rolling Into NYC, LA and SF
Clearwire has finally announced it will power up its WiMax service in New York City on Nov. 1, in Los Angeles on Dec. 1, and in San Francisco on — well, they don't give a date for San Fran yet. After that, Clear plans to roll it out in Miami, Denver, Cincinnati and Cleveland by the end of the year.
Clear is offering its dual-mode 4G WiMax and 3G service, which roams on the Sprint network when WiMax is not available. It has an aggressive rollout plan.

Where available, it does offer a pretty good service. When it launched in Atlanta last year, I was invited to be present on launch day and offer comments to the media covering the story. I tried the service, and except for a few small problems — like no service, in spots — I was basically impressed.
It was a very fast connection in most places. At the time, there was no service in others, but that problem should be solved now with newer devices that automatically revert to Sprint's 3G network when Clear is not available.
I think Clear should have rolled out its service in media centers like NYC much earlier. Reporters would have used it, liked it, and written about it, helping to spread the word.
Today, Clear is available in 56 markets nationwide, covers 66 million people and has almost 2 million customers. This seems to be a successful idea, and we are starting to see competition coming from a smaller company called "Towerstream," offering similar services to business customers — and a very new company called "LightSquared," is emerging, though it is not even selling services yet.
---
Jeff Kagan
is an E-Commerce Times columnist and a wireless, telecom and technology analyst, author and consultant. Email him at
[email protected]
.