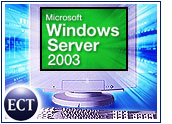 Microsoft has said it will expand its "most valuable professionals" program, offering more access than ever to the code underlying its most popular products.
Previously, access through the Shared Source Initiative, which Microsoft launched more than two years ago to help quell concerns about security holes in its software, was limited to specialized versions of Windows software, such as CE for mobile computing and .NET Web services tools.
The newly expanded program — seen by many as a response to the popularity of open-source software options — will include access to code that powers Windows 2000, Windows XP and Windows Server 2003.
Microsoft said the new offerings will "enrich the broader customer and community support for organizations using the Windows platform." The program, said Jim Allchin, vice president of the Platforms Group at Microsoft, provides feedback to the company on how to improve its products, offers assurances to end users about security issues, and enables partners to better integrate their offerings with the Windows platform.
Allchin said the move will "strengthen support for everyone using the Windows platform."
Some Restrictions Apply
While "MVPs" will have access to the entire library of software code that makes up the world's most widely used desktop operating system — some 100 million lines — they will not have the right to alter or reshare the code.
Microsoft said an existing base of about 1,200 MVPs, certified Windows administrators hand-picked by the software giant, will be eligible to see the code. Early indications are that about 20 percent of eligible administrators will take Microsoft up on its offer.
Industry analyst Rob Enderle told the E-Commerce Times that Microsoft's efforts to open its source code do not necessarily represent a shift in the software giant's corporate culture, even though Microsoft has made it clear in internal memos that have been made public that it sees open-source software, such as Linux, as a major competitive threat.
"Microsoft started doing this to acknowledge the complexity of the integration decisions enterprises are making," Enderle said. "The people who get to look at the code are their most trusted partners and developers. It's not like they're throwing the doors to the vault wide open."
Busy Days
Still, the timing of the move comes just as Microsoft and Linux vendor Red Hat go to market almost simultaneously with dueling product releases.
While Red Hat announced the launch of its Enterprise Linux 3.0 operating system, Microsoft said Wednesday that it has finalized a major advertising campaign based on the theme of "great moments at work" to support its Office 2003 release.
The Redmond, Washington-based company also will step into the earnings spotlight Thursday afternoon, with analysts predicting relatively modest sales and profit figures.