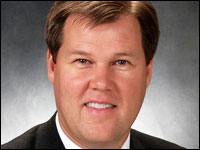 Just a month after saying it had no intention of opening a chain of retail stores, Microsoft has announced plans to do just that.
The software giant announced Thursday that it has hired Wal-Mart veteran David Porter to lead the retail effort. Porter will report directly to Kevin Turner, Microsoft's chief operating officer. Porter, whose most recent post was head of worldwide product distribution at DreamWorks Animation SKG, reports for his first day of work at Microsoft on Monday.
His first order of business at Microsoft will be to determine the time frame, locations and specifics for planning Microsoft-branded retail stores.
Microsoft's stock was down .31 percent to US$19.20 per share in mid-day trading on Friday.
Right Out of the Apple Playbook
Microsoft's announcement has been interpreted by many as a direct response to the growing threat of rival Apple's retail stores.
Wall Street may be overreacting, however, to Microsoft's decision.
"This is much ado about nothing, in my opinion," said Brendan Barnicle, an equity analyst with Pacific Crest Securities. "As they said, they're going to start small with this. This is an experiment. They're going to test it out."
However, a retail presence is a great opportunity to test out new retail concepts and new products, and even to do focus group work, Barnicle told the E-Commerce Times.
"That said, it's a big leap to assume that they're going to have an Apple-like retail store initiative," he remarked.
Will Apple see Microsoft's move as a threat? It's possible but not likely, Barnicle said.
"If Apple got worked up every time Microsoft copied one of their ideas, they'd always be worked up," he said. "Microsoft has done a great job of taking some of Apple's best ideas and integrating them into their own products."
On the Other Hand …
Since Microsoft has disclosed few specifics about the size and scope of the retail initiative, it's very possible the company plans to go all-out on a retail chain of Microsoft-branded stores, said Tim Bajarin, director of the consumer technology practice at Creative Strategies.
"If they've hired this ex-Wal-Mart guy, I have to believe [Microsoft's] plans are pretty large," Bajarin told the E-Commerce Times. "[A spokesperson] said 'a few' stores. That's the way to do it. Apple started with a few experimental stores before it made the decision to expand."
Microsoft's decision to open a chain of retail stores is a direct response to Apple, in Bajarin's view.
"Apple has put pressure on Microsoft," he said. "Apple has gained about 5 percent market share and is clearly showing how the retail experience has been critical to its gaining market share."
Microsoft also probably sees the importance of having its own retail presence to build customer affinity for the next version of the Windows operating system (dubbed "Windows 7"), especially given the debacle that was the rollout of Windows Vista, Bajarin speculated.
"They learned a big lesson from the Vista launch," he said. "They put that OS out there and expected consumers to flock to it. What they know now is that in this market you have to allow consumers to touch and feel the product to see how it works. A lot of Apple's success is a result of driving people into Apple stores to experience the Mac first-hand."
Risk of Channel Partners' Ire
Microsoft will have to proceed carefully as it rolls out its own retail stores, Pacific Crest's Barnicle said.
"There is a potential for friction there with channel partners that already sell Microsoft products," he said. Such partners include Best Buy, Wal-Mart, Staples and Office Depot, among others.
Bajarin voiced similar concerns. However, he also noted that it is not yet clear what products, beyond its software, Microsoft intends to put in its stores.
"I think hardware such as PCs and mobile phones will really be there just to enhance the user experience," Bajarin said.
The timing of the announcement, given the year-long U.S. recession and the steep downturn in consumer spending, also seems, at the least, counterintuitive.
Barnicle does not see the poor economy as a roadblock, however.
"I think investors are overreacting to concerns over new or additional spending needed to build this out," he said. "Right now, [Microsoft is] just opening up a few stores."