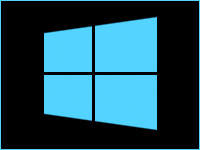 In an effort to enable rich, interactive ads for its Windows 8 platform, Microsoft on Tuesday announced Ad Pano, a brand-new advertising platform that runs across Windows 8, apps, Bing, Xbox and Skype.
Debuted at the Cannes Lions International Festival of Creativity being held this week in France, Ad Pano gets its name from the panoramic abilities of the ad format. A banner can let users scroll with their fingers on the touchscreen, for example, or scroll by moving their tablet to explore a scene.
Ad Pano is also the first ad format for Windows 8 to offer the possibility of an active anchor ad experience, which "comes to life with a series of 15 images that can simulate video, similar to a flip-book," explained Jennifer Creegan, general manager for display advertising experiences at Microsoft Advertising.
"The Ad Pano gives advertisers unlimited storytelling potential to customize their ad experience to deliver an interactive, immersive, panoramic ad experience comparable to a magazine fold-out," she added.
A Microsoft spokesperson was not immediately available to provide further details.
Early Examples
Ad Pano is now available in the U.S. and UK to all advertisers and publishers who use the Microsoft Advertising SDK for Windows 8.
As part of its announcement, Microsoft showed five early examples that take advantage of the Ad Pano format.
An ad for Vans shoes, for example, was developed by agency Rooster Worldwide to run within the Skype app. The banner lets users pick a Skype contact, then build a skate park together while having a conversation on the app. Users can then watch a pro skater pull a few tricks in the park.
A Dell ad created by agency VML, meanwhile, is currently running in the Bing Sports app. The user can scroll through a panoramic environment within the ad, or expand the ad to full screen, where the tablet's rear camera uses augmented reality to view the panoramic scene.
Critical Mass
"What's going on is that Microsoft is not getting a lot of attention from marketers because the platform is not as widely adopted as iPhone or Android," Greg Sterling, principal analyst at Sterling Market Intelligence, told the E-Commerce Times.
Ad Pano plays to Microsoft's multiscreen strength, offering advertisers a way to run ads in apps within Windows 8, Bing, Xbox and Skype.
"This is a prime example of creating engaging ads that are accessible in a multiscreen scenario, and that are supported technologically via open standards along with Microsoft's custom ad SDK," said Todd Pasternack, vice president of digital innovation at PointRoll.
"More expansive than iAd, Windows 8 apps are available across more screens with the same type of interactive nature; it's available on essentially any screen where Windows 8 is installed," Pasternack told the E-Commerce Times. "This could be any smartphone, tablet, computer, or connected TV environment that supports it, like Xbox."
Indeed, "we're in this multiplatform, cross-platform world where marketers are trying to reach consumers on different devices," said Sterling. "They need to sell a lot more of those licenses to make it work; they need to sell a lot more Windows Phones; but Xbox is the marquee platform."
Building on iAd
The Ad Pano platform is reminiscent in many ways of Apple's iAd, which was released a few years ago.
"This is along the lines of iAd to build specialized ad units that will stand apart from a marketer's standpoint," said Sterling. "What iAd was trying to do was bring in a richer experience to the smartphone than a static banner or rich media banner, to make ads more interactive and immersively engaging."
Apple's iAd has a head start on Ad Pano, of course, but Microsoft may have gained a quick lead.
"Though iAd certainly has much more adoption and reach at this point, it simply doesn't tell the complete multiscreen journey of consumers yet," said Pasternack.
At the same time, "one possible limitation of the Windows 8 SDK is the templates approach versus using the openness and expressiveness of Web standards like HTML5 — something iAd uses and promotes," he added. "I'm sure this will evolve over time."
Ultimately, Pasternack concluded, it's "a step in the right direction for making better ads that feel like they are part of the entire experience of interacting with the various screens at our disposal, and the interplay with the content we as consumers are seeking in the first place."