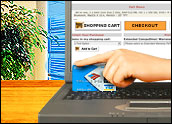 Online retailers are facing new challenges today. While more people are shopping online, there are more sites for comparison shopping, and in this difficult economy, people are spending less. Price discounting may help create sales now, but if it is the foundation of your customer acquisition and retention strategy, you may not achieve the long-term results you're after.
Retailers need new ways to draw people to their sites and keep them coming back to shop again. This requires a new form of innovation that is based on more effectively using assets you've already got. Responsible innovation can be a cost-effective way to stand out and sell more.
Responsible innovation is based on what most e-commerce operations cannot do without: a product catalog; item inventory and sales data; customers; and site search. With a little bit of creativity, you can make these fundamental assets work harder for you, bolstering immediate results and setting you up for future success at a lower cost.
Use the Data
Let's start with the data and see how you can use it to engage shoppers with more options. There is a wealth of information you can integrate into your online storefront to improve shopping, including inventory, buying guides, videos and sales data. If it resides in different systems or is managed by different teams, don't let that stop you. Break down the barriers.
If you've got the data, then use it — don't simply display it. Amazon.com, the world's largest online retailer, offers a wealth of data to help enhance the shopping experience. Amazon lets its shoppers explore items based on what matters to them, whether it's a particular category, item attribute, discount percentage, star rating or shipping option. Amazon keeps its customers in mind, paying attention to design and usability, as well as the type of information to include. This is critical as you bring more data online, so that the experience remains relevant and engaging for your users without overwhelming them.
For many retailers, making inventory an integrated part of the site search experience can not only boost relevance but also increase store traffic. Best Buy offers the ability to check online for availability of items in a particular area. The Home Depot seamlessly integrates this information into the search experience, promoting items only sold in stores alongside the online catalog. This gives shoppers the choice to order items online or to explore items they can pick up immediately at their local store.
Sales data is another asset that retailers already have on hand and can use to advise shoppers. For example, you can promote top sellers that are relevant to various searches on your site. You can also use other types of data, such as video and buying guides, to showcase items in new ways and help shoppers, particularly on larger purchases.
Embracing Community
There is a great deal of untapped potential in content created by your user community that can help you do innovative merchandising and guide shoppers more effectively. User-generated content — such as reviews, recommendations and product ratings — is simply another data source that can be used to complement what you already have on your site and create a more informative shopping experience for your customers.
If you currently display user-generated content on your site, go a step further and integrate it into site search and navigation. This will create a new dimension of exploration, allowing shoppers to search user reviews, refine by ratings or tags, and even navigate based on the profile of the person who wrote the review (assuming you have the data).
Online retailers from Apple to Zappos are incorporating user-generated content into the site experience. Some, like Moosejaw.com, incorporate user-generated content directly into site search and navigation, allowing shoppers to explore in new and innovative ways. In these cases, site search goes beyond product attributes to include refinement on ratings and on derived refinement values, such as number of reviews, providing shoppers with yet another way to engage.
What's Relevant Anyway?
User experience experts suggest that shoppers today value predictability over probability. To many, this means giving shoppers greater visibility into site behaviors such as search. Many sites still rank search results by an opaque relevance measure. Instead, you can encourage shoppers by giving them more ways to understand what might be relevant in the context of their needs.
Sites that stand out are ones that provide more transparency, guiding shoppers with every search through a better use of available data. You can do this by including data and verbiage that lets you promote items based on what users care about, such as prioritizing top-rated or best-selling search results.
Retailers such as travel site Kayak and electronics firm Comet have been successfully using more of their data to create transparency in search, ordering results by popularity. These sites also provide the ability to sort results by other relevant data, such as user-defined star ratings.
The SEO Facet
More data is better, so long as it is usable. One way to ensure you get the most out of your data is to use faceted search, which helps shoppers more easily find what they want. Faceted search uses all your available data — such as item attributes and user-generated content — to automatically create a wide variety of navigation paths to each item in your catalog.
The benefits of faceted search go beyond better use of your data for browsing. If harnessed properly, faceted search can help cut your search engine optimization budget. Faceted search automatically adds thousands or millions of pages to your site, each of which can be indexed by search engines. That means more visibility for your site within natural search engines.
With this multitude of pages created by faceted search, you can apply SEO best practices — such as a site map of all pages, including the appropriate page meta-data and URL structures, and page deduplication — to ensure the highest rank for each page. This is a great way to make your existing site structure work harder in attracting shoppers.
Innovation is critical to survival in today's economy. By looking more closely at your existing e-commerce assets — such as your product catalog, related information such as sales and inventory data, input from your customer community, and site search — you likely will find opportunities for ways to innovate responsibly. More effectively exploiting these assets opens the door for quick ways to improve customer acquisition, retention and profitability.
---
Jesse Goldman
is global lead, retail, at
Endeca
, a provider of search applications.
---