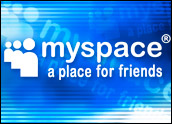 Social networking site MySpace has announced that it will launch a group of branded channels for video content produced by partners such asThe New York Times,National Geographic, and Octane TV. Each channel will be housed within the MySpace Video area of the site and will feature content customized for various MySpace audiences by the media partners.
The channels will fall into two categories — news and lifestyle — according to MySpace. Reuters, for example, will provide its "Quick Cut" daily newsreel, which features 30 seconds of top daily news. National Geographic will draw on its archives of documentaries and popular shows such as "The Dog Whisperer."
In the lifestyle group,Expert Village will provide how-to tutorials on a wide range of subjects, ranging from "How to make the perfect Margarita" to "How to Deliver a Baby in the Back Seat of a Taxi Cab."
Viral Promotion
It's a win-win situation for both content providers and MySpace, according to MySpace spokesperson Tracy Akselrud. Individuals with their own sites on MySpace have the opportunity to link to video content through their own profiles. About two-thirds of the video items that are posted on MySpace end up being linked this way, Akselrud told the E-Commerce Times.
Thus, the content is promoted virally to a much wider audience than just those people seeking the video in a specific area of the site. For content providers seeking new audience members, social networking offers ample opportunities.
Of course, video content is expensive to produce. On commercial television, it is supported by ad revenue and subscription fees. At this time, no specific arrangements have been made for including advertisements within the video content provided through the branded channels. However, MySpace is exploring a variety of ad models with its partners, Akselrud noted.
In the meantime, MySpace will continue to pursue an ad strategy based on agreements it has forged with companies that distribute 80 of the top 100 brands in the US. Promotional content related to those products is displayed in the form of banner advertising on pages in specialized MySpace communities — a group organized around the launch of a feature film, for instance. Those ads also will be in front of the users that visit MySpace specifically for the new branded video channels and wander elsewhere on the site.
Millions of Eyes
From the perspective of the content provider, getting access to the many millions of unique visitors logging onto MySpace monthly is a big pull, Diane McNulty, The New York Times' executive director of community affairs and media relations, told the E-Commerce times. The MySpace deal is part of the company's overall video content distribution strategy, she said, noting that other deals will be announced in upcoming weeks.
The new MySpace channel offerings reflect the exponentially growing popularity of video content on the Web, and the race to create business models to take advantage of the rapidly increasing numbers of viewers.
The controversies over copyrighted content on YouTube and similar sites illustrate the negative side of the explosion. At the same time, though, both network and cable television networks are racing to provide their archived shows through the Web channel.
New video podcasts are appearing daily. It makes sense, then, that media companies would find ways to reach out to potential viewers rather than wait for them to stumble on broadcasts limited by time or viewing device.