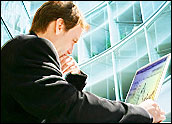 One of the hard realizations that most new e-commerce companies must make sooner or later is that simply creating a Web site does not mean customers will visit it.
Sure, there are hundreds of millions of potential customers online, but there are also billions of other Web sites competing for their attention. "The odds of people finding you accidentally are infinitesimally small," Orvel Ray Wilson, coauthor of the Guerrilla Marketing series of books, told the E-Commerce Times. "If you build it, they will not come."
Unless, that is, you do something to increase your odds. The good news is that while many traditional marketing techniques have required the deep pockets only the big guys have, marketing on the Internet can often be done on a dime. That, in turn, means that even little guys have a chance.
SEO, SEO, SEO
Rule No. 1: Don't spam — ever. "Spam accounts for the vast majority of traffic on the Internet today," Wilson said. "It's just not effective."
Instead, focus on making sure potential customers can find you. That requires that you design your site such that search engines like Google will not only find it, but rank it highly enough for users to find it too. The process is called search engine optimization, or SEO, and it's both an art and a science.
"The first thing I think is critical to be able to market successfully on the Internet without spending a lot of money is search engine optimization," Caroline Melberg, president and CEO of Melberg Marketing, told the E-Commerce Times. "There are lots of things you can do yourself without hiring an expensive consultant."
A big part of SEO is crafting text carefully to include the right keywords — things you want Google (and users) to associate your site with. These keywords should be included in the title, description and keyword tags for each and every page on your site, as well as in the text on the page itself.
Keyword selector tools such as one offered through Google AdWords can help identify the best ones — both relevant to your business and likely choices for users doing the searching. "Think hard about what keywords you'll use, and use them aggressively within your text," Wilson advised.
Flash in the Pan
Direct relevance is essential. "Don't make your keyword list a Google wish list by including every word that could eventually be related to your business," Melberg cautioned. "Keep it to five or so keywords that are relevant today, and make sure they appear on the page. Search engines look at pages, not Web sites."
Keywords should also be used in the "alt tags" for all photos and images. "Search engines can't read pictures, but they can read the names of pictures," Melberg explained. "You'd be amazed how many sites I see that have pictures with labels like 'picture 01'," she said. "That's a perfect opportunity to use a keyword instead."
Another simple but important strategy is to give every product you offer its own page, Wilson advises. That alone allows for more content, more use of keywords and more internal hyperlinks, which the search engines count in their evaluations too.
It also recognizes that "40 percent of Internet users don't use the scroll bar," Wilson said. "If your product page is more than one screen long, people will never see what you have."
Something to avoid, however, are Flash animations. Even more important than the fact that such animations can quickly annoy many users is the inability of search engines to "see" the content included in them, so any keywords in there will be lost from the search engine's perspective, Melberg noted. In other words, it's a waste of content that could otherwise be helping you.
Inbound Links
Such SEO steps are fairly simple, and can help bring an e-commerce company closer to its potential customers online. "Once you've done these, your site will have a fighting chance in the natural search engine results," Melberg said. "They won't give you a No. 1 ranking, but they will make it possible for you to be found."
To increase the odds, the next step is to try to foster inbound links to your site, or links from other pages to yours, since Google takes those as an indication of your site's worth. While the old wisdom was to establish "reciprocal links," or agree to link to someone else's page if they'll link to yours, Google quickly caught on to that strategy, so reciprocal links are now valued less in the page ranking process.
Setting up a presence on MySpace, Facebook or Second Life is one good way to get some one-way links to your site, Wilson said. Same goes for posting video content on YouTube.
Creating a blog is another good strategy, Melberg advised. Not only do you use it to link to your own site, but you can also offer to link from it to someone else's site in exchange for an inbound link to yours. "But make sure the blog is on a different domain name," Melberg noted — otherwise, it will be viewed as a reciprocal link.
Also pay attention to the "anchor text," or the highlighted words the link is attached to. Once again this text should be keyword-rich, so it's worth telling a linking partner what to use, Melberg said.
Connect With Bloggers
Getting your business listed in an online directory such as Yahoo's can be another good way to get an inbound link, Melberg added. The Yahoo directory costs a few hundred dollars a year, but others are free, she said.
Inviting bloggers to review your product can be another way, Will Dylan, author of Small Business, Big Marketing, told the E-Commerce Times. To mitigate the risk that a less-than-stellar review could result, "look for someone who has written about an issue related to your product in the past," Dylan added. If your site offers water-efficient lawn sprinklers, for example, a popular blogger who advocates water conservation may be an ideal target, he said.
Ultimately, the more other sites link to yours, the more important Google assumes your site is and the higher it ranks you for the search terms that matter. The higher your ranking, the more potential customers will find you. And that, in turn, can only be a good thing.
Marketing for Little Guys, Part 2: Stretching the Budget Even Further