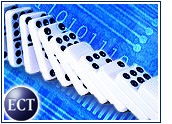 Troubled Internet consultancy MarchFirst (Nasdaq: MRCH) announced Monday that it will lay off 1,700 employees, or 30 percent of its staff.
The company also said that it was selling some of its operations to Divine (Nasdaq: DVIN), a Chicago-based Web enterprise software and services firm, in a deal that could be worth up to US$120 million.
Among the assets being sold to Divine are Chicago-based MarchFirst's receivables, its central region office, its SAP practice, and 19 other offices around the United States.
MarchFirst also said that it was "actively pursuing" the sale of other business units and closing down its Australian operations.
MarchFirst has "a lot of issues to deal with," Morningstar.com analyst David Kathman told the E-Commerce Times. Kathman said that the merger between Chicago's Whittman Hart and San Francisco, California-based USWeb/CKS, which created MarchFirst last year, was "just a fiasco, basically."
Long-Term Financing
The terms of the deal call for MarchFirst to sell its central region business unit, along with other offices and assets, to Divine for $6.25 million and a $27.75 million note payable over a maximum of five years.
MarchFirst could also receive up to $39 million more, payable over five years, depending upon the future performance of the unit.
Additionally, Divine agreed to acquire MarchFirst's SAP practice, its value-added reseller business, and other assets for $6.25 million up front and a $29.75 million note payable over a maximum of five years. During that time, MarchFirst could also collect up to an additional $16 million if the operations meet "certain performance targets."
The transfer of assets to Divine is expected to affect up to 2,100 MarchFirst employees.
Divine Profitability?
"This deal structure allows Divine to acquire a significant amount of strategic revenue with attractive terms, including long-term financing," said Divine chief financial officer Michael Cullinane.
Using the assets acquired from MarchFirst, Divine plans to launch a wholly owned subsidiary, named Divine/Whittman-Hart, that will offer software applications and e-business services. Divine said it expects the new entity to produce $250 million in annual revenue and to be profitable from the start.
Difficulties Remain
MarchFirst also said that it had extended the maturity of its loan agreement with American National Bank and Trust Company of Chicago to June 15th.
Notably, MarchFirst acknowledged that it "continues to have significant liquidity difficulties and is pursuing alternatives to satisfy obligations to the bank and other creditors and meet the needs of its employees and clients."
MarchFirst did get one bit of good news Monday, when the Nasdaq resumed trading on the company's stock. Trading had been halted March 28th with the company's stock at 14 cents per share. The stock closed Monday at 9 cents.
Shakeout Shakeup
Although many of MarchFirst's problems are unique to the company itself, Kathman said that he believes there will "have to be a shakeout" in the Net consultancy sector because "the industry as a whole is hurting."
Kathman said that for a while there was a "huge demand" for Net consultancies, but that the demand went away as the dot-com downturn struck cyberspace.