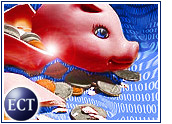 Magic Software Enterprises (Nasdaq: MGIC) fell 1/8 to 2 3/8 Wednesday afterannouncing that fourth-quarter revenue and earnings will be below previousexpectations.
"Like many other technology companies, the current weakness in worldwideeconomic conditions, coupled with a slowdown in corporate IT spending, hashad a negative impact on Magic's results," said chairman Dan Goldstein.
Magic, which makes software that allows companies to do business over theInternet, said revenue for the quarter will be about US$23 million. Thecompany said it expects a net loss of about $6 million, about half of whichwill be due to non-recurring charges for a restructuring that includes amanagement shift.
As part of the restructuring, chief executive Jack Dunietz and presidentIsrael Teiblum will leave the company at the end of the year. Goldstein willtake on the additional title of CEO, Magic said. The company said it willprovide details about the restructuring charges when it reports results inFebruary.
"Many deals have been postponed until 2001 while companies reassess theirown spending in light of the current market," Goldstein said. "We are quiteconfident that these deals will be realized in the coming quarters."
Magic said it has received "positive reviews" from customers that have usedits new products, and management is optimistic about the company's long-termoutlook.
The company also said the integration of recently acquired CoreTech ConsultingGroup is proceeding ahead of schedule.
"We have completed the downsizing that we felt was necessary at CoreTech toincrease its profitability, and we are now moving forward with merging theremaining capabilities with our North American operations and placing themunder a single steward," Goldstein said.
The company will announcedetails of its plans for CoreTech after the first of the year.
Magic is based in Yehuda, Israel, with U.S. offices in Irvine, California.The company is an affiliate of the Formula Group (Nasdaq: FORTY), ane-business technology company.