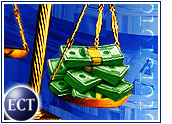 Checking off another item on its turnaround to-do list, Lucent Technologies has agreed to settle a series of 54 class-action shareholder lawsuits, almost all relating to whether Lucent misled investors by providing incomplete financial reports.
Lucent said the settlement, which requires court approval, will cost about US$420 million. The company plans to take a charge next quarter to reflect the payout. But attorneys in one of the main cases to be settled said the deal's final value will be about $600 million, including the value of warrants to buy Lucent shares at a discount.
Dubious Distinction
If that higher amount proves correct, the deal will rank as the second largest shareholder suit settlement on record, according to the Stanford Law School Securities Class Action Clearinghouse, behind only the $3.5 billion Cendant has agreed to pay to its shareholders.
The suits were brought on behalf of institutional and individual investors who bought Lucent stock between October 26, 1999, and December 21, 2000, when Lucent publicly announced it would restate earnings to reflect the fact that $679 million in revenue had been improperly recognized.
Despite the settlement, Lucent said it is not admitting any wrongdoing.
"This settlement puts all pending shareowner and related litigation behind us," said CEO Patricia Russo. "By resolving these legacy issues, we can put all of our energy into running the business and continuing to rebuild shareowner confidence in the performance of this company."
Rebuilding Effort
Russo is overseeing one of the largest rebuilding efforts in the high-tech sector. Eager to shed underperforming units and realign its business, Lucent has put some $5 billion worth of assets on the block, and it took a $12 billion loss in 2002 as it cut its workforce in half.
Meta Group analyst Davis Willis said Lucent is still paying for buying into the illusion that demand for high-end fiber-optic technologies would never flag.
"Instead, it crashed down," Willis told the E-Commerce Times. "And they quickly found themselves way overextended toward developing new technologies instead of building a solid business, which is what they're trying to fix now."
Nitty Gritty
The settlement will cost Lucent $315 million in cash and stock up-front, though the company said it intends to pursue recovery of up to $70 million of that total from insurance carriers.
Lucent also will issue 200 million warrants to purchase Lucent stock at a price of $2.75 per share. The company said those warrants are worth about $100 million, but attorneys for the plaintiffs say the value is much higher.
Shares of Lucent were trading up marginally early Friday at $1.50.
Misery Loves Company
Lucent was one of many companies hit with shareholder lawsuits in the aftermath of the dot-com bubble and the subsequent Nasdaq plunge.
For example, AOL, Webvan, WebMD and Idealab all have been sued by shareholders who claim they bought stock under false pretenses because the companies withheld damaging information or overstated revenues. Other companies, such as Amazon and eBay, are the subject of lawsuits filed against brokerage houses accused of illegally manipulating share prices and allotments at the time of those companies' IPOs.
According to the Stanford database, the number of federal class-action lawsuits against public companies rose 31 percent last year, with 224 companies named in such actions. Those companies hit with suits lost a collective $1.9 trillion in market capitalization during the year.