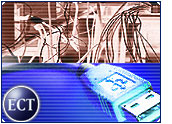 LSI Logic (NYSE: LSI) fell US$1.77 to$18.92 in morning trading Monday, after the company, which makes integratedcircuits and storage systems, said it agreed to acquire communicationsprocessor maker C-Cube Microsystems forstock worth about $878 million.
C-Cube shares jumped on the news, rising $5.56 to $14.38 by midmorning.
LSI said it will exchange 0.79 common shares for each outstanding C-Cubecommon share as part of the definitive merger agreement. LSI also said itexpects to complete the acquisition by June 30th, with the deal adding toearnings for this year.
"The acquisition of C-Cube will enhance LSI Logic's technology strengths indesigning and manufacturing [products and systems] for [its] customers in rapidlygrowing communications and broadband entertainment markets," said chairmanand chief executive officer Wilfred J. Corrigan.
C-Cube provides chips for digital set-top boxes, DVDs and other devices.Customers include Sony, Samsung, JVC and Motorola. According to LSI, the merger with C-Cube will result in a company that offers "a complete portfolio of technologies forhigh-growth cable, satellite, terrestrial and DSL set-top box markets."
Earlier this month, LSI warned of aslowdown in demand for its products, lowering its outlook for the firstquarter ending in March.
The company said a "sharp decline" in U.S. customer demand and a "widespreadinventory correction" would hurt results for the quarter. Corrigan added atthe time that communications and storage would be "the growth drivers" whenbusiness picks up.
LSI and C-Cube are both based in Milpitas, California.