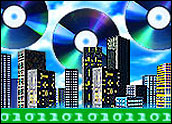 Mega e-tailers have harnessed the Internet with such finesse that their Web sites seem to run on magic. However, the trade is a tricky business, and the options are few.
"It's the transactional piece that's the roadblock," Gartner Research Vice President Gene Alvarez told the E-Commerce Times.
That is why there are "no large-scale retailing sites fully open source at this point — because of the transaction component," he notes. There are, of course, numerous large traffic-only sites, such as Wikipedia, that are chugging along on pure open code.
Partially Open to Open Source
"There are large-scale [transactional] sites with open source components, however," Alvarez says. The leading product, according to Gartner, is IBM's WebSphere Commerce. Retailers using this product include Staples, Ritz Interactive, Hallmark, USPS (United States Postal Service) and, of course, IBM.
"Based on open standards — and in addition to its multichannel retailing capabilities — the software allows merchants to create more-personalized consumer shopping experiences," Sandy Carter, vice president, SOA and WebSphere strategy at IBM, told the E-Commerce Times.
The Illusion of RIA
There are new techniques that can help tweak the personalized customer Web site experience as well.
"Lately, one of the significant and most promising trends has been for these operations to deploy Rich Internet Applications (RIA) to significantly improve the perceived performance of an e-tailer's Web site," Gomez CTO Imad Mouline told the E-Commerce Times. Gomez is a provider of Web application experience management solutions.
"Some of these RIA technologies, such as Ajax, don't actually speed up the delivery of bits and bytes over the Internet. Implemented properly, they can use optimization techniques to give a much richer experience to the end-user," he explained, "and use the framework's asynchronous capabilities to download content in the background, often in anticipation of the end-user's next click, which then appears to yield results almost instantaneously."
SSL acceleration, which can dramatically speed up the sensitive part of any e-commerce transaction, is an important addition to the transactional component of a large-scale site, says Mouline.
Countdown Continues
No. 2 on Gartner's list of top performing vendors for more traditional e-biz systems on a large scale is Art Technology Group (ATG). Retailers deploying ATG's e-commerce product suite include Neiman Marcus, American Eagle Outfitters, Coca-Cola, Best Buy and Reader's Digest.
Gartner rounds out its top five rankings with Oracle's iStore, SAP's E-Commerce and Microsoft's Commerce Server 2007.
Mix 'n Scratch
The advantage of buying products off the shelf, says Gartner's Alvarez, is that e-tailers "can focus on attracting customers rather than on supporting code."
Key components that e-tailers look for in off-the-shelf products are the product catalog, the shopping cart, and personalization features, he says.
However, the majority of large-scale sites are running a combo of proprietary and off-the-shelf products, notes Alvarez.
"They tend to buy the transactional component from specialized vendors. They take a best-of-breed approach and work from there. It's like buying a pancake mix instead of making pancakes from scratch," he says, "but there's still some cooking involved."
Puzzling Pieces
Indeed, the recipe for large-scale sites is more than a little piecemeal.
"A globally distributed customer base will force an e-tailer to make some hard choices to ensure that all customers, regardless of their geographic location, receive a consistent experience when transacting through the site," notes Gomez's Mouline.
The e-tailer can choose to distribute its data centers around the world, placing them strategically where its end-users are concentrated. It can choose to employ a content delivery network (CDN) service, which will speed up the delivery of the static content of its site, by delivering it from POPs (points of presence) that are closest to those end-users.
"However, since not all content to end-users is static in nature — think account information, order status, product configuration — a CDN may not be enough," advises Mouline. "Another service that these operations deploy is Web Application Acceleration."
These third-party services typically route the end-user's request to the closest POP owned by the third party, which then connects up to the main Web site using what are essentially "shortcuts" through the Internet.
"When working correctly, these services can make the experience of an end-user from Tokyo connecting to a Web site hosted in Boston indistinguishable from a Boston-based end-user's," contends Mouline.
No Illusions
While each major e-tailer cooks up its own recipe for Web site magic, none of the ingredients will make problems totally disappear.
"It is important to remember that all these apps and techniques, while improving the end-user's experience and reducing the e-tailer's infrastructure costs, aren't always a panacea," says Mouline.
In the end, he cautions, illusion is not an option — no matter the magic perceived nor the hard science applied. "One must remember to constantly measure the resulting experience of the end-users from the perspective that really counts: theirs."