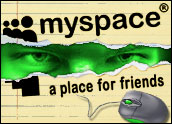 The bizarre and controversial case of a Missouri teenager who killed herself after being bullied through MySpace, allegedly by the parent of a peer, has reportedly shifted to California, where the social networking site is based.
A federal grand jury in Los Angeles has issued a subpoena to MySpace, according to the Los Angeles Times. This is apparently as part of a new effort to explore possible criminal charges against the parent behind the hoax.
The story of Megan Meier's suicide exploded onto the national scene last fall, after it was revealed that the mother of a classmate and former friend of the 13-year-old had been masquerading as a 16-year-old boy to engage her in online conversations that turned ugly.
Amid the outcry, officials in Missouri investigated the case but never filed charges against the mother, Lori Drew, for perpetrating the hoax, saying there was no existing law under which they could charge her.
Prosecutors in the U.S. attorney's office in Los Angeles may now be exploring whether Drew could be charged with fraud because she misrepresented herself through the MySpace account, the newspaper reported. The grand jury issued multiple subpoenas, with at least one going to Beverly Hills, Calif.-based MySpace and others to potential witnesses, according to the report.
Setting a Precedent?
Drew has admitted to police that with the help of a third party, she established a MySpace account and contacted Meier, but claims she did so as a way of monitoring what the girl was saying about her own daughter, who had experienced a falling-out with Meier.
Any case would likely open the door to a host of questions about online behavior, including the anonymity and false identities that sites such as MySpace enable Web users to employ.
In fact, law enforcement officials — and some cable news channels — have even been known to use fake identities themselves on such sites by posing as underage children in order to lure would-be sexual predators into sting operations.
Moreover, online anonymity plays an important role, such as by enabling people to report crimes without identifying themselves or blow the whistle on corporate or government corruption without the fear of reprisal, Kurt Opsahl, a staff attorney with the Electronic Frontier Foundation, told the E-Commerce Times.
"Any law or precedent-setting prosecution that limits the ability to be anonymous would be a concern," he said.
For instance, the EFF is currently monitoring a case of an anonymous blogger whose identity is being sought through subpoena by parties in a malpractice suit. "Anonymous communications have an important place in our political and social discourse, and the Supreme Court has ruled repeatedly that the right to anonymous free speech is protected by the First Amendment."
Legislative Response?
Dardenne Prairie, the town where the incident took place, has passed an anti-cyber bullying ordinance, and legislation has been proposed at the state and national levels since. In fact, a task force on Internet safety formed by Missouri Governor Matt Blunt urged lawmakers in the state to make it a felony crime for adults to harass children using the Web and other online technologies.
It's hard to imagine what type of national legislation might address the specifics of the case, however, said Jeffrey D. Neuburger, the chair of the technology, media and communications practice at Thelen Reid Brown Raysman & Steiner in New York.
"Exactly what they're going to pursue for charges isn't clear, but the jurisdictional issues fall into a legal analysis that is more established," Neuburger told the E-Commerce Times.
Whether a Web company can be held liable in jurisdictions other than its own state, for instance, depends in part on how much interactivity the site offers. As a truly interactive social network, MySpace may not be able to argue it can't come under another state's or federal jurisdiction. It will instead likely argue that the Communications Decency Act protects it from liability, especially civil liability, in the case.
"It's an awful story and that helps it get a lot of attention, but it's hard to see what the legal precedent or legislative changes that it's going to lead to at this point," he added.