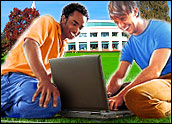 The two leading social networking sites — Facebook and News Corp.'s MySpace — are both launching advertising programs this week aimed at allowing marketers to tightly target their audiences by using information from user profiles and other data.
MySpace announced the pending launch of "SelfServe by MySpace," an advertising-ordering, creation and serving platform on Monday at the annual Ad:Tech conference in New York City, and said it has been quietly testing its HyperTargeting by MySpace technology since July.
When it launches early next year, the self service platform will open up its targeting technology to enable a broader audience of advertisers to reach specific audience niches based on the detailed data the social network has on its users.
Online Holy Grail
SelfServe by MySpace will be focused on display advertising — Google will continue to serve search and text ads to the network based on a long-term partnership between the two companies.
The platform will enable advertisers of all size to benefit from the ability of the Web to deliver targeted, timely ads, said Michael Barrett, chief revenue officer for MySpace parent Fox Interactive Media.
"Targeting is for everyone — from the smallest band to the biggest brand," he said, adding that MySpace is trying to provide an easy way "advertise on the most trafficked site in the country."
Both social networks are seeking something of a holy grail in the Web 2.0 environment — a way to monetize the millions of users who spend countless hours on such sites, sharing photos, music, videos and information about themselves.
Excitement about the ability to unlock that value helped drive Microsoft's recent decision to take an ownership stake in Facebook, an investment that essentially values the privately held firm at $10billion.
Hitting the Target
The big idea behind targeting is that ads will generate far higher response rates and drive a higher percentage of consumers to take action such as visiting a Web site or applying for an offer. As a result, advertisers will likely be willing to pay more for such ads.
Advertisers will be able to choose to target ads based on geographics, demographics and a number of categories of user interests, MySpace said. The network plans to create more than 100 categories of user based on their stated interests such as movies, travel and cars.
Like Google's AdSense, the platform will let users pay for their ads and start, update and stop campaigns on their own, using analytics tools provided by MySpace.
The system will level the playing field, enabling even smaller businesses to create, track and improve display ad campaigns, something that larger advertisers often do through ad agencies, MySpace Founder and CEO Chris DeWolfe said. The number of specific user categories could grow over time to 1,000 or more as data becomes more refined, he said.
"There are 23 million small businesses in the U.S. and less than a million advertise online," DeWolfe said. "SelfServe is designed for the millions of businesses that don't advertise online today — we want to bring that new class of advertisers to MySpace."
Unlocking the enormous potential of all those small businesses will take time, Sterling Market Intelligence analyst Greg Sterling told the E-Commerce Times, but the ability to geographically target ads could be critical.
"Most small businesses still won't be in a hurry to advertise online, but the more these sites can demonstrate that ads are hitting their targets and getting results, the more that critical mass will be built up," Sterling said.
Since it began testing HyperTargeting in July, MySpace said advertisers have been seeing a 300 percent improvement in ad performance.
Dueling Debuts
Facebook has not disclosed the details of its pending targeting announcement, but reports say it will include the ability to customize ads based on the information in user profiles. That site may also give its users the option of having information about their online movements shared with advertisers.
Both networks have to navigate the potentially sensitive landscape of Internet privacy in their quests to enable more targeted ads to reach consumers. The programs debut, in fact, amid a push by some consumer protection groups to have the Federal Trade Commission (FTC) create a "do not track" list that would allow consumers to opt out of having their Web movements tracked and that data shared with marketers.
The online marketing industry has set its own standards for how data is collected — including standards that prohibit identifying information from being shared with third parties without prior consent — but a national opt-out program similar to the Do Not Call list that applies to telemarketing today would greatly simplify the process of protecting privacy, said Mark Cooper, director of research at the Consumer Federation of America.
"The need to have this raised up to the FTC level is driven by the fact that almost all Internet companies are engaged in this data collection and analysis effort," Cooper said.
Indeed, virtually all of the major search and advertising companies — including Google, Yahoo and Microsoft — have promised ad platforms that better target users based on the search term they enter or sites they've visited. In the case of social networks, however, consumers have often provided extensive personal information that could be inherently more valuable to advertisers, he added.