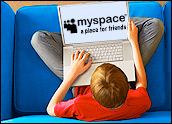 MySpace is breaking into the casual gaming world, and it's tapped casual games company Oberon Media to get the job done. In early 2008, MySpace will launch MySpace Games, which will let users choose from hundreds of games for free online play.
"Bringing entertainment in the form of fun, social, casual games will enhance our user experience," Amit Kapur, MySpace vice president of business development, noted. "Our goal is to provide our members with an easy way to play with their friends and give them with additional ways to interact."
Through the partnership, MySpace users will be able to add games to their profile pages, and then take the game a step further and challenge their friends with multi-player games, as well as chat while playing.
A Growing Industry
More than 200 million people worldwide play casual games via the Internet, which is more than number of people who own gaming consoles worldwide, according to the Casual Game Association. The casual gamers download more than 60 million games each month, and by 2008, the Casual Game Association reports that the casual games industry will become worth US$1.5 billion worldwide, with $690 million generated from North America alone.
Most of the revenue is coming from the online download try-and-buy model of casual gaming.
"About half of the people who play casual games are men and half are women," David Oro, a consultant for the Casual Games Association, told the E-Commerce Times.
"However, three quarters of the purchasers of casual games are women," he added. "And some of the most popular games are MMO-type [massively multiplayer online] games, but they are not part of any social network other than the games themselves."
Playing Up the Social Aspects
"We have seen strong investment in casual MMO games, and if that happens to be on the game's own platform, that's fine, and if it happens to be on MySpace or Facebook, that's fine as well," Oro explained. "The developers and publishers in our industry will make games for whatever platform — just like they've done for online, for Wii and for mobile."
In fact, the next generation of casual games may live inside the pages of social networks.
"We definitely see casual games becoming one of the principal types of interactive content for social networks," Robert Norton, vice president of business development for King.com, told the E-Commerce Times. King.com provides skill-focused games for Yahoo's gaming portal, as well as for other outlets and brands including TV shows like "American Idol," "Deal or No Deal," and "1 vs. 100."
King.com used to focus on building destination sites for casual games, but has since refocused its efforts. "Increasingly, the things people want to go online to do will take place within social networks," Norton said. King.com launched a new beta site, MyGame.com, this summer, which lets users rapidly and easily build their own casual games using the site's online Game Builder tool.
"At MyGame.com, we let people create and customize their own games and then embed them in their MySpace or Facebook pages," Norton noted.
"So the announcement that MySpace is moving into casual games in a more significant way comes as no surprise to us, and it validates this drift of interactive gaming and interactive content taking place within social networks instead of outside them. I think we'll be undoubtedly be seeing more of these types of deals moving forward," he added.
MySpace and Oberon will encourage the casual games developer community to submit their ideas for new forms of social gaming to Oberon, which will support MySpace Games with a software developer kit designed specifically for multi-player and social gaming, though neither company has revealed revenue generation plans for MySpace Games.