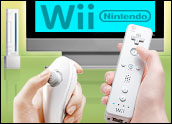 Chasing down rumors in the video game blogosphere can be as risky as a Bowser boss battle in "Super Mario Galaxy." That's the caveat for reports that an image of a retail advertisement announcing a US$50 price cut for Nintendo's Wii console had been captured in the wild by a Kotaku reader.
Unfortunately, there are no cheat codes for this kind of thing, despite industry observers noting that bringing the price down to $199 would shadow recent cuts by Microsoft for its Xbox 360 and Sony's new PlayStation 3 Slim, with all these moves sparking a wide-open battle for the hearts and minds of consumers come the holiday season.
Nintendo was no help; repeated calls for comment from the E-Commerce Times were not received by press time. However, a Nintendo official denied forthcoming price drops for the Wii to the British Video Games Republic Web site. However, that doesn't stop the gaming faithful — and those paid to chart company strategies — from playing their own version of "what-if" as the industry attempts to reverse the effects of a worldwide recession.
Besides, the whole video game Web rumor theme has even found its way into Sony's marketing for its new PS3 Slim. A new TV commercial cuts from a Madison Avenue stereotype of a gamer — male, bearded, overweight — smugly telling the camera that he's found evidence on the Internet of a $299 price for the Slim and demanding company reaction; a smiling corporate type cautions the gamer not to believe everything he reads on the Web ("That's how World War I got started.") while strolling around a studio filled with large "$299" promos and price tags.
Nintendo's Price End-Game
The aforementioned Toys 'R' Us flyer announcing a price cut in large lettering may indeed be an exercise in Photoshop magic. However, previous reports of retail circulars announcing similar pricing for the PS3 Slim and Xbox 360 raise blogger suspicions that the companies are themselves leaking the flyers to generate Web buzz.
Whatever the case, Intrepret gaming analyst Michael Cai wouldn't be that surprised at a Wii price cut. "It's about time!" Cai told the E-Commerce Times. "Although the Wii doesn't compete head-to-head against Xbox 360 and PS3, it doesn't live in a vacuum. It competes against things such as other forms of entertainment and travel for consumer wallet share, especially in a down economy. The next wave of adopters of Wiis are more cost-conscious, and the biggest inhibitor for them is price."
The drop, Cai believes, would boost sales for the holiday season while not eating into Nintendo profits. "Nintendo has been generating a healthy margin on the hardware for three years, and even with the new price point, they should still make a net profit for each Wii they sell."
Wii's Target Audience
A Wii price cut, combined with strong new titles such as "Wii Sports Resort,""The Beatles: Rock Band," the new "Guitar Hero" and a forthcoming Super Mario game could prove to be tempting combinations for consumers — especially the highly anticipated "Beatles" game — according to gaming guide author and industry expert David Hodgson.
"You could almost argue that 'Beatles: Rock Band' could push Wii sales, and the other way around," Hodgson told the E-Commerce Times, "simply because the Wii is much more designed for a casual audience. And if there was ever a 'Rock Band' game that went down that road, especially for older audiences, it would be 'Beatles: Rock Band.'"
A price that's less than $200 — even if only by one dollar — could resonate with recession-weary shoppers. "You get an emotional response from the consumer to have something at $199. That's been proven over the decades. If you're looking from the outside in and still don't have a console, you're looking at it like it's a bit of a bargain," Hodson said.
Even with more Wiis on store shelves with each passing December since its introduction nearly three years ago, Hodgson believes the company can still push strong sales with the right pricing and software strategies. "Everybody is looking at sales and thinking: Has it reached critical mass yet? The answer seems to be it's slowing a little bit, but it certainly hasn't slowed down a lot, and this (price cut) could only further the good for the industry."