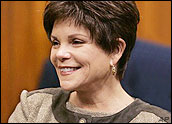 Former Hewlett-Packard Chairwoman Patricia Dunn, whose decision to aggressively investigate boardroom press leaks led to a scandal and a wave of resignations — but little collateral damage for the PC maker — was cleared of all criminal charges Wednesday.
Judge Ray E. Cunningham dismissed all charges against Dunn, who had been indicted in October on four felony fraud charges, including allegedly using pretexting to obtain phone records of HP board members and journalists covering the company. That indictment came under former Attorney General Bill Lockyer.
An 'Appropriate' Decision
On Wednesday, current California Attorney General Jerry Brown said the decision to dismiss all charges against Dunn was appropriate, given her level of involvement in the actual tactics used in the investigation and her health condition. Dunn is currently receiving treatment for cancer.
While Dunn's charges were dismissed, three others will also avoid jail time after pleading no contest to various charges.
Former HP ethics officer Kevin Hunsaker and private investigators Ronald DeLia and Matthew DePante all pleaded no content to fraudulent wire communications charges. Judge Cunningham did not immediately accept their pleas, and said the charges against them would also be dropped in September if they complete 96 hours of community service and make restitution before then.
From the outset of the scandal, the focus had largely been on Dunn, who Lockyer had portrayed as the mastermind behind the investigation that roiled the HP boardroom. During subsequent Congressional hearings on pretexting, a long list of HP executives and outside investigators pleaded the Fifth Amendment. Dunn left HP in September.
Through it all, HP remained largely unscathed from a business perspective. In fact, as the scandal dragged on through the fourth quarter of 2006, HP was reclaiming the PC market share crown from longtime rival Dell.
Changes Aplenty
Still, the scandal, which brought the practice of pretexting — using fraudulent claims to obtain the phone records of an individual — into the public eye as never before, left its mark on HP in other ways. Dunn resigned in September and two other board members also quit, along with several high-ranking executives connected to the investigation.
Dunn is "pleased this matter has been resolved fairly," she said.
"I have always had faith that the truth would win out and justice would be served — and it has been," she added.
Her attorney, James Brosnahan, called the dismissal "the right result."
Dunn's exoneration came to light after a several confusing hours Wednesday, with the prosecutor's office first releasing news that Dunn and the other three would plead guilty when they appeared before the judge later in the day. That informstion was later called erroneous when it became clear that the judge was going to throw out the charges against Dunn and that the other defendants would plead no contest.
Justice Versus Politics
While Congress was focusing on whether to pass legislation making pretexting a crime, Lockyer became a high-profile figure, investigating HP executives under law and building a case that existing fraud laws made the practice illegal.
Nonetheless, politics is a major factor in the HP scandal, helping to bring both criminal charges and national attention.
"I think it is clear that this was largely politically motivated at the time. I mean, honestly, when has Congress really cared that much about the privacy of reporters? It isn't that they shouldn't, it's that they don't," Rob Enderle, principal analyst of the Enderle Group, told the E-Commerce Times.
"The California case helped get the California attorney general the visibility he needed to win an election, and Congress could use HP as a proxy for the administration they wanted to attack, but couldn't with a Republican majority," he added.
Lawmakers approved a phone records protection law largely because the HP case brought the issue to light, though efforts to pass federal legislation have bogged down, Enderle noted.
Attorney General Brown suggested the HP case served a valuable purpose, by bringing the use of pretexting to light and helping regulators crack down on it.
"In the six months since the attorney general's office first filed criminal charges in the HP case, the use of pretexting has dropped dramatically," he said, citing data from AT&T and other phone service providers.
Need for Clear Policies
Another result of the HP scandal is likely to be greater awareness among corporations of the need to set clear and consistent policies on how employees and others can be investigated, Gartner analyst Martin Reynolds told the E-Commerce Times.
"It should have served as a wake-up call to other businesses," he stated. Even though HP saw little damage to its operational business, the risk for potential damage to brand and reputation is significant enough to prompt most like-sized corporations to act to avoid a similar problem, Reynolds added.
For instance, companies need to know what tactics outside investigative firms employ, as the HP case underscored that pleading ignorance on the specific approaches will fall short as a defense, at least in the public arena, he noted.
HP has not escaped damage along the way. In December, the company said it would pay US$14.5 million to settle charges related to the spying tactics.
"Overall it's been more of a distraction than anything else, customers and investors seemed to take it in stride," Enderle concluded.