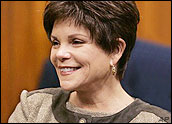 FormerHP chairwoman Patricia Dunn on Wednesday pled not guilty to criminal charges in connection with the corporate spying scandal that swirled around the technology giant earlier this year. Accompanied by her husband, Bill Jahnke, Dunn entered her plea before a Santa Clara County, Calif., Superior Court judge. She declined to speak to the crowd of reporters who gathered at the San Jose courthouse.
Dunn faces charges of fraud, identity theft and conspiracy for her alleged role in HP's investigations into boardroom leaks to journalists. Investigators used fake names and other questionable means to obtain personal information about board members and reporters.
Establishing Probable Cause
The next step is the preliminary hearing; the state will have to establish probable cause that Dunn committed the crimes. Probable cause is typically not a difficult standard for prosecutors to meet, according to William Keane, a white collar criminal defense attorney and partner with Farella Braun + Martel in San Francisco.
"These hearings will give the defense its first view of how the government sees the case," Keane told the E-Commerce Times. "But because summary evidence and hearsay is allowed at preliminary hearings, there is an open question as to how valuable this first 'look' will be."
Both sides are likely gearing up for a trial, Keane speculated, noting that the prosecution will be challenged to offer evidence that establishes Dunn's criminal intent in the absence of a smoking gun.
Pretexting at Center of Case
A privacy issue — HP's use of a technique called "pretexting" to obtain the phone records of board members — led to HP's troubles. Pretexting involves a third party posing as a telephone customer to obtain call records. The practice has come under fire from privacy experts, and there is a fierce ongoing debate over its legality. Earlier this year, the state of California sued Web-based firms that resold phone records obtained through pretexting.
Dunn reportedly authorized the surveillance of HP board members that led to the company's decision not to renominate George A. Keyworth II to his seat on the board. HP said it discovered that he leaked confidential information that had appeared in the media.
No details were provided regarding the substance of the leaks, but the company said the problems began even before the ouster of Dunn's predecessor, former HP CEO Carly Fiorina, suggesting they may stretch back as far as HP's controversial merger with Compaq.
After an internal inquiry revealed that Keyworth was the source of the leaked information, a second director, famed Silicon Valley venture capitalist Thomas J. Perkins, turned in his resignation. Perkins was displeased with the way HP investigated the leaks. He then took his complaints to the state attorney general of California.
Attorneys in the case will return to court on Friday to schedule future hearings. Dunn and the other defendants, however, are not required to appear.
Ronald L. DeLia, a Boston-area private detective; Matthew DePante, manager of Action Research Group, a Melbourne, Fla., information broker; and Bryan Wagner, a Littleton, Colo., man who is alleged to have obtained private phone records while working for Action Research, are also charged in the case.