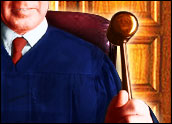 In the case of Tiffany vs. eBay, a U.S. district judge has presented the e-commerce giant with the best gift it could get in this litigious, digital age: a victory in a four-year-old trademark protection lawsuit.
Judge Richard Sullivan of New York found that eBay's process of vetting suspected counterfeit items is sufficient and that Tiffany bears more responsibility for watching over its brand in cyberspace.
The ruling is a rare win for eBay in this rapidly evolving arena, and it could have an impact on its legal challenges overseas. European courts this year have found in favor of LVMH group, Moet Hennessy Louis Vuitton and Rolex in trademark lawsuits involving counterfeits against the online auction house.
A Genuine Impact on E-Commerce
"The implications are enormous," Benn Konsynski, a professor at Emory University's Goizueta Business School, told the E-Commerce Times.
"In an age where we're moving toward social networking and more information brokerage than pure direct commerce, and all the democratization trends, it's critical to know how much responsibility you have for policing content. How far do you have to go to ensure that your content providers are respecting all rights and trademarks?" he added.
In eBay's case, Sullivan ruled the company went far enough in removing suspected counterfeit goods upon receiving complaints from Tiffany.
What About the Brand Owners?
Additionally, Sullivan agreed with eBay that it didn't have to pre-emptively remove the items even if Web site officials had their own doubts about the validity of the products. The ruling means more work and money for retailers like Tiffany, Heather Kliebenstein, an intellectual property attorney for Merchant & Gould in Minneapolis, told the E-Commerce Times.
"E-commerce companies can avoid infringement actions even if the Web site provider has general knowledge of the infringement or counterfeit goods being sold on their Web sites," she said. "Brand owners will need to be able to point out or document specific instances of trademark infringement to succeed in court, based on this precedent. This will increase the burden on brand owners and their in-house counsel."
Fight Shifts to Europe
The same concerns — spending more time and money — may still await eBay in Europe. It's unclear whether the New York ruling will have any effect as the company appeals trademark decisions it lost in Germany and France.
Nevertheless, eBay still faces an uphill struggle overseas, Anita Ramasastry, law professor and director of the Shidler Center for Law, Commerce + Technology at the University of Washington, told the E-Commerce Times.
"The European courts are going to be looking at the European market and the concept of the European consumer and seller — even though we think of these as global marketplaces and [e-commerce companies] want to trade with the same rules in place. Trademark infringement is different in Europe regarding presumption and in terms of who has responsibility for not only infringement but contributor infringement," she added.
While it would have cost eBay — and potentially its customers — more money to vet goods had it lost the Tiffany case, the company will still have to ensure its global business complies with European courts, Konsynski noted.
"eBay will have to adjust its patterns of market practice for the legal environment in different venues. It can do that — it can adjust — but the question is what constitutes fairness. … Is it equal treatment for all parties?" Konsynski questioned.
Indeed, "eBay will have to take a more active role to police its users in Europe." Kliebenstein commented.