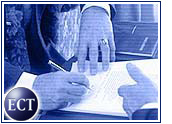 NetCreations, Inc. (Nasdaq: NTCR) rose 3/32 to 6 25/32 Tuesday after thee-mail marketing company said it agreed to a US$7 per-share buyout byItalian Internet service provider SEAT Pagine Gialle SpA.
The deal values NetCreations at a total of about $111 million.
NetCreations said its board unanimously recommended shareholders approve themerger agreement, which came days after a deal with DoubleClick, Inc. collapsed.
The controversial online advertising company agreed in October to buyNetCreations, but terms of the deal included an opt-out provision in theevent the e-mail marketer received a higher offer.
NetCreations says its database contains more than 22 million e-mailaddresses of consumers who have opted to receive marketing information. Thedatabase is expanding by about 80,000 names each day, according to the firm.
SEAT Pagine said the acquisition of NetCreations is consistent with itsstrategy "to build a leading provider of specialist content for the businesscustomer." The company plans to acquire a controlling stake in France'sConsodata, Europe's leading provider of business-to-consumer marketinginformation.
"The NetCreations team and its business model fit perfectly with our desireto grow our information marketing capabilities," said SEAT Pagine Gialle CEO Lorenzo Pellicioli. "The agreement presents us with theopportunity to enter the U.S. market with a prime asset in the onlineconsumer information marketing arena."
NetCreations chairman and chief executive officer Rosalind Resnick willcontinue to manage the company after the merger, which is projected to becompleted during the first quarter of 2001.