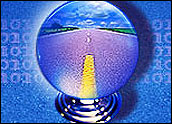 An online ad-sharing deal between Google and Yahoo may be on the verge of collapse.
Talks between the two Internet search powerhouses and the U.S. Department of Justice have stalled, prompting Google and Yahoo to consider walking away from the proposed agreement, the Wall Street Journal reported Friday.
Shortly after Google and Yahoo announced the deal in June, it was greeted with criticism from the advertising industry. Advertisers fear such a deal would give Google too much control of the online ad market.
Google controls as much as 60 percent of the market, while Yahoo controls about 20 percent. Microsoft is a distant third with about 10 percent.
Talks Ongoing
Despite the press reports that the deal is on the verge of being scuttled, Yahoo and Google maintain they are still in talks with the DoJ.
"We have been working with the Department of Justice regarding our agreement with Google, and those discussions are ongoing," Tracy Schmaler, a Yahoo spokesperson, told the E-Commerce Times. "As we have said, we believe strongly that this agreement will strengthen Yahoo's competitive position in online advertising and will help to drive a more robust, higher quality Yahoo marketplace for our advertisers, publishers and users."
Google offered a similar response to the reports.
"We are continuing to have cooperative discussions with the Department of Justice about this arrangement and agreed to a brief delay in implementing the agreement while those discussions continue," Google spokesperson Adam Kovacevich told the E-Commerce Times. "We are confident that the arrangement is beneficial to competition, but we are not going to discuss the details of the process."
Blow to Yahoo
Yahoo has had its share of struggles lately. The once high-flying company announced last week that it would lay off 10 percent of its 15,000-employee workforce. The next day, Yahoo said its profit dropped by a whopping 64 percent during the third quarter.
Meanwhile, Google has steadily eaten away at Yahoo's position in the search advertising market.
With Yahoo in the midst of a financial struggle, competing with Google is only going to get harder if the proposed deal between the two companies falls through.
"To be effective, you have to constantly tweak the algorithms to bring back the best search results," Matt Rosoff, an analyst at Directions on Microsoft, told the E-Commerce Times. "Google's really good at that. And with Yahoo in financial trouble, I don't think they have the resources to keep investing in their own online ad technology for search."
The June deal would allow Yahoo to display ads from Google and then take a portion of the revenue. The deal would boost ad revenue at Yahoo considerably and give the ailing company a chance to see whether Google's search results provide higher revenue than its own.
"Yahoo was going to see which searches offered more money," Rosoff said. "I think what they would have found is that the results from Google would have earned them more money."
Microsoft and Yahoo
Yahoo's board has been the target of harsh criticism for not taking a buyout offer from Microsoft earlier this year. The deal would have paid Yahoo shareholders US$33 per share, nearly triple the value of Yahoo shares today.
With the proposed Google-Yahoo ad deal seemingly about to flounder, there may be an opportunity for Microsoft and Yahoo to reopen acquisition talks.
"I feel that a deal of some kind between Microsoft and Yahoo is likely," said Rosoff. "It may take a while because there's not a lot of urgency on Microsoft's part right now. Online advertising is a small part of Microsoft's revenue today, and they can afford to wait to see the economy right itself and see how the online advertising industry shakes out."
However, it is doubtful that Microsoft would acquire Yahoo outright. More likely is a partnership centered around the two companies' respective search ad assets and technologies, Rosoff said.