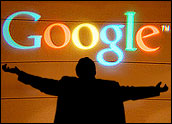 Rumors began bubbling up Tuesday that Google plans to acquire game maker Valve, developer of the "Half-Life" series and the Steam content distribution platform. The speculation began with a report in British technology publication The Inquirer, citing "well-placed sources" claiming Google would very soon purchase Valve.
The Internet search giant could be eying the Bellevue, Wash-based game maker in order to get its hands on the Steam content distribution technology.
Google's Jon Murchison told TechNewsWorld the company had no comment on the possible acquisition.
"We do not comment on market rumor or speculation," he said.
Valve did not immediately respond to requests for comment.
Adding Valve
If Google is indeed in talks to purchase Valve, it's part of the company's effort to take on Microsoft on all fronts, said Rob Enderle, principal analyst at Enderle Group.
"Google is making a broad spectrum attack against Microsoft. That means they're coming at them with applications and application platforms. One of the things I think they probably realized is that one area they haven't really addressed is games," he told TechNewsWorld.
The reason Google would go after Valve and Steam is to bring in people who can design games for their new back-end platform, Enderle continued.
"They would like games to be delivered using their back end and their Chrome-based browser front end. So undoubtedly — if the rumors are true — that's why they're doing this. They want hosted gaming. They want a leading company to do the hosted gaming, and they want to be able to provide this entertainment through their front end," he added.
Google's long-term goal, he said, is to make Windows obsolete and the way to do that is to create as many things as they can and put them up in their environment — gaming being one of them.
Full Steam Ahead?
Valve's Steam digital distribution platform also serves as a digital rights management, multiplayer and communications platform. The company uses the technology to distribute and manage more than 440 games over the Internet to over 15 million active users.
With functionality similar to a feed reader, Steam enables users to purchase access to games via their Steam account. Available in multiple languages including English, French, Japanese, Russian and Spanish, Steam also offers a community Web site. Through the social network, users can communicate with one another.
In addition, Steam provides users with "Friends," an instant messaging tool for public or private one-on-one and multiple user chats as well as a peer-to-peer Voice over IP service. Members can also search, filter and bookmark as well as join Internet-based an LAN (local area network) games using Steam's server browser.
"What Steam does is give [users] games on their platform. Don't forget they're doing cloud-based computing, and the games up in the cloud aren't that great. They're mostly Flash-based, nothing that would really challenge Windows," explained Enderle.
Google will want a mainstream game developer to create offerings for its cloud-based platform so people can see it will support a relatively rich gaming property, he pointed out.
"Gaming was one of those areas that Apple overlooked that I doubt Google will overlook. They need to have games on Android and games on their Chrome platform, and this will do both. Eventually, Valve will probably migrate its games over to the Google platform," he concluded.