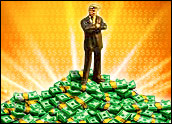 Investors are grabbing shares in technology companies, as excellent economic reports keep coming from the U.S. government indicating that the federal budget deficit is down dramatically and tax collections have increased by 25 percent during this fiscal year.
Infosys Technologies last week said it added 38 clients during the just completed quarter, and that its net profit jumped 44 percent to US$174 million, which far exceeded expectations, and caused its shares to rise. Google last week said it plans to open offices in the Ann Arbor, Mich., area, and that it will employ 1,000 people within five years to handle advertising generated by the Internet search engine. Other tech companies reported growth news too last week.
That growth has caused a surprisingly steep increase in tax revenues from corporations, helping to drive down the projected budget deficit this year.
Good Economic Growth
There was also 5.6 percent economic growth in the first quarter of 2006, generated by strong corporate profits, the Commerce Department said.
That marks eighteen growth quarters in a row, according to the Bureau of Economic Analysis. Even last year's devastating hurricanes couldn't slow down the momentum.
"Last year's record hurricane season and resulting weak retail sales will likely make this summer's sales results look comparatively strong; this could make for a relatively solid back-to-school season," said Carl Steidtmann, chief economist of Deloitte Research, based in New York City.
The rising revenue stream has been building for months, but the increased scale is making it easier for both the Bush administration and Congress to pay for bolstered spending. Tax revenues are climbing twice as fast as the White House Office of Management and Budget (OMB) predicted in February — so fast that the budget deficit will actually decline this year.
The budget deficit now represents a mere 2.3 percent of America's Gross National Product (GNP), about 1 percent lower than earlier predictions. During its annual review, the OMB last week cut its estimate for the fiscal 2006 budget deficit to $296 billion, or 2.3 percent of gross domestic product, a $127 billion decline from its previous projection. Earlier this year, OMB said it expected the current fiscal year's deficit to reach a record $423 billion, or 3.2 percent of GDP.
The budget numbers are likely to improve even more. According to the Congressional Budget Office, tax revenues are $206 billion higher than those received over a comparable period last year. The nonpartisan CBO, which makes estimates for lawmakers, also said that the deficit for the first three quarters of fiscal 2006 came in $41 billion less than the red ink recorded for the same period in 2005.
Those CBO figures also indicate receipts are growing at a 13 percent growth rate.
Corporate tax payments are expected to exceed $300 billion, up from $131 billion three years ago.
Some Skepticism
Some are skeptical, however, about the growth. Ranking Budget Committee Democrat Kent Conrad (D-N.D.), said last week, "Anyone celebrating today's deficit announcement is missing the bigger picture. The long-term deficit outlook is bleak, the nation's debt continues to pile up at an unsustainable rate."
Another critic, House Minority Whip Steny Hoyer (D-Md.), added, "For an Administration that is struggling to maintain its credibility both at home and abroad, today's concocted 'victory lap' on the federal budget deficit is not only the height of absurdity but also politically transparent."
There are threats that remain for the economy despite the improved tech profits and corporate profits, and the creation of 5.4 million new jobs since August 2003, a thirty four month span of growth. "We continue to face the triple-threat of high energy prices, a soft housing market and relatively weak job growth," said Steidtmann.