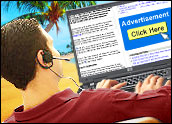 By 2011, Internet advertising is expected to become the largest advertising segment, surpassing newspapers for the first time, a new study reported Tuesday.
The same study predicts overall communications spending to top US$1 trillion in 2008, making it the third-fastest-growing sector in the U.S. economy, just shy of government and agriculture.
The forecast comes from the "VSS Communications Industry Forecast 2007-2011," an annual report published by the private equity firm Veronis Suhler Stevenson, which has published the report for 21 years.
"We are in the midst of a major shift in the media landscape that is being fueled by changes in technology, end-user behaviors and the response by brand marketers and communications companies," said James Rutherfurd, executive vice president and managing Director at VSS.
"We expect these shifts to continue over the next five years, as time and place shifting accelerate while consumers and businesses utilize more digital media alternatives, strengthening the new media pull model at the expense of the traditional media push model," he noted.
Out With the Old, In with the New
Consumers are increasingly turning to the Internet, video games and cable or satellite TV at the expense of newspapers and free broadcast TV, VSS reported.
On average, the time consumers spent on the newer media jumped 19.8 percent from 2001 to 2006, while time spent on traditional media declined 6.3 percent over the same period.
Surprisingly, for the first time since 1997, consumers spent less time with media in 2006 than they did the previous year — a 0.5 percent decline. The drop in consumer media usage was driven by the continued migration of consumers to digital alternatives for news, information and entertainment, which require less time investment than their traditional media counterparts, VSS reported.
For example, consumers typically watch broadcast or cable television at least 30 minutes per session, while they spend as little as five to seven minutes viewing consumer-generated video clips online; however, VSS expects consumer media usage to stabilize in 2007 and increase slightly through 2011.
It's All About Control
"What people are finding is they have more choice and more control on what and when they consume media. Cable TV is increasingly about on-demand programming and gives them lots of choices while broadcast TV offers fewer choices," Greg Sterling, an analyst for Sterling Market Intelligence, told the E-Commerce Times.
"The Internet is even an more extreme example of that — where people have unlimited choices. The paradox is that it can be confusing and overwhelming, but consumers are responding to the choices and the tools that give them more control," he added.
The Cultural Catalyst
"If the person to my left and to my right are no longer watching TV and are instead watching user-generated YouTube videos, the likelihood that I'll do that too increases," Sterling noted. "So there's a cultural element to all this as well."
Spending on alternative advertising — including Internet, mobile, video games and digital out-of-home, among others — grew 36.6 percent to $26.53 billion in 2006, VSS reported.
Traditional advertising spending, however, grew only 2.4 percent to $183.21 billion in 2006. Meanwhile, spending on alternative marketing — including branded entertainment, interactive marketing and e-custom publishing — increased 17.3 percent to $61.67 billion in 2006. In contrast, spending on traditional marketing, such as direct mail and promotions, grew only 5 percent to $192.34 billion in 2006
"Leading national advertisers have accelerated their diversion of dollars from traditional print and broadcast media to alternative digital platforms to combat media and audience fragmentation, increased consumer control and multitasking, and the growing impact of advanced technology on conventional media models. The result has been the extraordinary growth of alternative advertising and marketing," Rutherfurd noted.
Down but Not Out
"There's the sense that everything is moving in one direction and traditional media will lose their audience entirely — and I don't think that will happen," Sterling said. "The audiences have fragmented and continue to fragment, but traditional media will have an audience — just smaller than it has been historically."
The Internet, Sterling noted, is talked about as a single, monolithic entity, but it's really incredibly fragmented. A handful of sites and products, like MySpace and Yahoo, reach large audiences, but most Internet traffic is spread out over millions of sites, pages and services.
"The big brand advertising dollars are starting to migrate to varying degrees to online, but it's a lot more complicated for those advertisers to get the same reach online as they can on broadcast TV — in one moment [on one show] you can reach huge audiences," he noted. "It's much more difficult to reach an audience like that on the Internet."