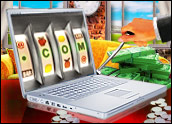 There's a case brewing in Louisiana that mayblow the lid off virtual casinos everywhere.
The U.S. Department of Justicemaintains that online gambling of all types is illegal inthe United States under the 1961 Wire Act — andhas been successful in prosecuting Internetgamblers and bookies under that law.
However, a U.S. appeals courtfaces the question of whether a trialcourt in Louisiana was correct when it ruled in Februarythat the Wire Act does not apply to all forms of Internetgambling, but only sports wagering.
In the consolidated cases, several gamblers suedVisa and MasterCard, seeking to avoid paying theirgambling debts. Judge Stanwood Duval of the U.S. District Court for theEastern District of Louisiana dismissed the case, whichmeans that the gamblers will have to pay up.
However, in doing so, Duval made his broad statement aboutthe application of the Wire Act. With the case now under appeal, many advocates of online gambling are no doubt betting on the federal appellate court to give them the hook they need toopen the floodgates for Internet casinos.
The Bookie Loses
Despite what Duval wrote in his opinion, courts in other jurisdictions have sided with the Justice Department and ruled that all forms of Internet gambling are unlawful under theWire Act.
For example, the Wire Act was used toconvict atelephone and Internet bookmaker last year.In that case, U.S. District Judge Thomas Griesa, sittingin New York, sentenced Jay Cohen, co-owner of Antigua-basedWorld Sports Exchange, to 21 months in prison, followedby two years of supervised release, in addition tonearly US$6,000 in fines and assessments.
"People who operate businesses from foreign shoresthat take sports bets from Americans should understandthat they cannot escape the consequences of theiractions by locating their sportsbooks outside theUnited States," said U.S. Attorney Mary Jo Whiteat the time.
According to White, "an Internet communication is nodifferent [from] a telephone call for purposes ofliability under the Wire Wager Act." Indeed, legal experts note that theWire Act was drafted specifically to combatthe growing use of a service in the 1950s known as "The Line,"which gave up-to-date gambling information tobookies so they could take and place bets in real-time.
Play, Don't Pay
Which bring us back to the MasterCard/Visa case.The plaintiffs in that case argued that bysending out monthly statements to customerswho had used the cards to gamble online,MasterCard and Visa committed fraud in trying to collect "illegal" debts.
Judge Duval, however, threw the MasterCard/Visasuits out before they ever made it to trial.
"Plaintiffs in these cases are not victims,they are independent actors whomade a knowing and voluntary choice toengage in a course of conduct," Duvalsaid in the ruling. "At this point in time,Internet casino gambling is not a violation of federal law."
Duval also drew the legal conclusion thatthe 1960 Wire Act only prohibitssports betting online.
Side Comments
Under the legal doctrine of "obiter dicta," or"worldly discussion," it could be argued thatthe judge went too far and made some sweeping statementsabout the Wire Act that were not necessary tohis opinion, and so not binding on other courts.
However, if the appellate court decidesto review and approve of the judge's broadconclusions about the Wire Act, it is possible thatan appellate opinion will be floating around thatwould prohibit new prosecutions of online gambling operationsunder the Wire Act.
Only In Vegas
Since Duval's ruling in February, there havebeen several other major developments thatwill help decide the fate of online gambling.
Notably, in mid-June,Nevada passed a bill allowing large casinos to set up in cyberspace, becoming thefirst state to allow Internet gambling. Although the law does notlegalize online gambling in Nevada, it does permit state regulators toprepare rules to govern Internet-based betting.
Nevada also plans to build a coalition of states tochallenge the Wire Act. However, Whittier Law School professor Nelson Rose downplayed thelikelihood of its success.
"Although a lot of states have lotteries and casino gambling, none outsideof Nevada appear anxious to take bets from other states and nations," Rosesaid.
Gearing Up
Rose said that the big question is whether the proposedInternet Gambling Prohibition Act will bereintroduced into Congress and whetherfederal lawmakers will pass a ban on Internet gambling e-cash.
Reportedly, the Act, which failed to passlast year, is being reworked by its original author,U.S. Representative Robert Goodlatte (R-Virginia).
The revamped bill, instead of focusing onthe Wire Act, will attempt to declare credit carddebts incurred from Internet gamblinguncollectable. It will also reportedly let state lotteries sell ticketsonline, a major item not included in the first bill.
Cards on the Table
The U.S. appeals court might avoid a review of Judge Duval's conclusion thatthe Wire Act does not apply to Internet casino gamblingand determine the outcome of the MasterCard/Visa cases on other grounds.
However, even if the appellate court avoids the ultimate issue now,another federal appellate court or two could take up the questionof whether the Wire Act applies to Internet casino gambling. Eventually,the myriad factions in the Web gambling sector could bringthe issue to the U.S. Supreme Court.
Rose sees a mixed outlook for online gambling.
"In the near future, we will see more states outlawing Internet gambling,although they will exempt their own legal forms of gambling," Rose predicted. "Congress[will be] unable to reach a consensus, and legal onlinebetting expand throughout the rest of world."