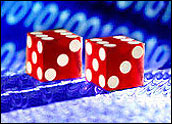 Firing the latest salvo in the battle over online gambling, the state of New Jersey announced Monday that it has filed lawsuits against three offshore Internetcasinos for allegedly accepting illegal bets from New Jersey residents.
State Attorney General John J. Farmer, Jr. said the civil cases werefiled against Alohacasino.com, Royalclubcasino.com and 7sultans.com.
According to Farmer, those were Web sites "from which any individual in New Jersey with a computer and Internet accesscan participate in a variety of online gambling activities for money,including casino-style games such as blackjack and craps, wagering on horseraces and sports betting."
The suits were the culmination of a 15-month long joint investigation by the New Jersey Division of Gaming Enforcement and the NewJersey Division of Consumer Affairs, Farmer said.
Underage Gamblers
New Jersey said its probe turned up evidence that the online casinos violated the New Jersey Constitution, as well as the state's civil and criminal statutes, by allowing residents, including underage gamblers, toparticipate in illegal gambling activity.
In addition, the state maintains that thedefendants advertised their "unlawful activity" on billboards in New Jersey.The sites' alleged targeting of underage gamblers was aparticularly "unconscionable commercial practice," Farmer said.
"New Jersey residents should understand that these sites are unregulated and unsafe," said Farmer. "Quite simply, they're a bad bet."
All Bets Off
New Jersey, which filed its actions in the Mercer County Superior Court, is seeking a court order to permanently stop the three Internet casinos from advertising online gambling in New Jersey, and from accepting wagers or allowing other gambling activity from individuals or entities in the Garden State.
Division of Consumer Affairs spokesperson Genene Wiggins Morris told the E-Commerce Times that legal papers had not yet been served to the threeonline casinos.
"We just filed yesterday, so that would be the next step,"she said.
Morris added that while it is "premature" to say whether New Jersey willhave problems tracking down company officials, she noted that stateattorneys will be "exploring" the possibility of asking a judge to allowthem to serve papers electronically in the event the casino operators cannotbe located.
Follow the Money
Authorities also want a detailed account of how many residents placed bets and how much money they won in the past 12 months, as well as the return ofany money or property they acquired.
As for damages, the state is asking the court to impose the maximumcivil penalty of US$7,500 for each violation of its consumer fraud laws.
"The rules are pretty simple," said Division of Consumer Affairs directorMark Herr. "Don't lie, don't cheat, don't steal."
Added Herr: "By advertising in New Jersey, these companies gave New Jerseyconsumers the impression that it is okay to gamble online. It isn't. Sowe're prosecuting them so the next person who wants to break the law knowswe'll be looking for them."
Staking Claims
Although some states are looking to crack down on online gaming, others are clearly hoping to capture what is by all accounts a booming market.
Earlier this month, Nevada Governor Kenny Guinn signed off on a law allowing Internet gambling casinos, even though the U.S. Department of Justice has held that the practice is illegal.
However, officials from the Silver State said that online gamblingestablishments must provide assurances that minors will not be able to play andthat online gaming will not be transacted from states that prohibit the practice.
The Study of Gambling
A study released last year by the River City Group found that 700 gamingsites brought in $1.1 billion in 1999 and are expected to do $3 billion inbusiness in 2002. Other researchers have put the take at twice that amountby 2003.
Another study, from Greenfield Online, found that because so many online casinooperations are run from offshore locations with little government oversight,as many as 60 percent of Web gamblers believe the sites are "fixed."