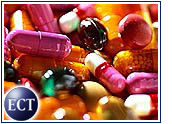 E-commerce industry insiders and pundits are acting out their own version of the reality TV show "Survivor," wondering aloud which dot-com is going to be the next player kicked off the Net.
Some companies are obvious candidates for banishment, while others, such as those in the online pharmacy industry, stand poised at the edge of the cliff, ready for anything. Which Web drugstores will get kicked off the Net next and which are going to turn the corner into profits?
Why Internet druggists have had such a roller-coaster existence is widely debated, but by now some of their kind have already disappeared, including PlanetRX.com and others. For those still in cyberspace, such as Drugstore.com (Nasdaq: DSCM), there is good news and bad news to be had.
The good news is that a recent study said more consumers than ever are turning to the Internet to research health issues and prescription drugs.
However, the bad news, according to a recent Insight Express survey, is that nearly 93 percent of online consumers have never made a purchase from a Web-based pharmacy.
Murky Proposition
Is there truly a mass market for online pharmacies? If so, what is the prescription to bring a Net drugstore to profits and long-term viability?
Flashback to that Marketing 101 class you took way back when. Remember the concept known as unique selling proposition, or USP? Having a decent USP is the critical element missing from the online drugstore business model.
Try as we might to make the consuming public believe it cannot live without the Internet, every business still has to define its own USP.
Healthy, Wealthy
For online drugstores, the general USP was supposed to be convenience and a slight price break on most items. In addition, the ability of online drugstores to provide a wealth of content is supposed to appeal to consumers who need information about their health conditions and the drugs they take.
Still, if that is the whole USP for online pharmacies, we now know why only 7 percent of Web users have ever had a prescription filled at an online pharmacy.
People Who Need
"Good morning, ma'am."
Therein lies the biggest obstacle for online drugstores. More than 60 percent of the respondents to Insight's survey said they would prefer to deal with a local pharmacist.
People want to deal with people. Despite the rapid-fire development of Internet access services, high resolution monitors and flashy graphics, it is the human element that can make or break any Web business.
In small towns and major metropolitan areas alike, individual consumers often form personal relationships with their local merchants. Talking to the clerk at the corner store is just more comfortable than clicking at a screen.
Pile of Bricks
To further complicate matters, many brick-and-mortar drugstores are increasing their real-world presence throughout the United States.
Walgreens is a good example. The company is still in the midst of a massive building and expansion program that looks like it's trying to establish a Walgreens on every corner in every town.
When dealing with intimate health and well-being issues, human beings want human interaction, and apparently they prefer dealing with the corner drugstore. That's the drugstore on their street corner, and not the online drugstore sitting on the corner of their desk.
Direct Threats
Meanwhile, online drugstores are also seeing new competition from the individual drug companies that have now established their own Web sites.
Merck & Co. (NYSE: MRK), for example, which does business online as MerckMedco.com, claims it dispenses nearly 1.2 million prescription drugs through its mail service pharmacies each week, with much of the business originating from its highly complicated Web site.
However, some users have found the site cumbersome and difficult to navigate.
Bad Deal
The frustration of dealing with sites such as Merck-Medco poses a double threat to online drugstores that want to capture a mass consumer base.
For better or worse, consumers are already dealing with these sites and are unlikely to start over with another Web site.
And perhaps more importantly, the impersonal experience that consumers have had in dealing with online pharmacies may have soured many on the prospect of filling prescriptions online.
Elusive Pitch
The conventional wisdom at the moment says pure-play online drugstores may end up being little more than a footnote in the e-commerce history books.
Investors are tired of waiting for the big payoff and venture capitalists have seen the light. Unfortunately, that light is shining most brightly on established brick-and-mortar drugstores working on convergence of their offline and e-commerce operations.
All indications are that consumers are ready to embrace the Internet as a source of information about their health and drugs. Is that the elusive USP we were looking for?
If so, the Internet drugstore of the future will likely be a research/library site where consumers sign on and pay for content.
What do you think? Let's talk about it.

---
Note:
The opinions expressed by our columnists are their own and do not necessarily reflect the views of the E-Commerce Times or its management.
---