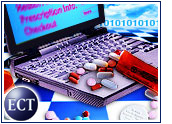 Following the announcement of staff layoffs and an executive departure last week, Drugstore.com(Nasdaq: DSCM) on Monday reported a narrower than expected loss for the fourth quarter and that net sales for the fourth quarter of 2000 topped sales figures for all of 1999.
Not impressed with the results, Wall Street brought shares of the company's stock down in early trading Monday to US$2.34, from a close of $2.63 on Friday.
"There are positives here, but they still have a long way to go," Morningstar.com analyst David Kathman told the E-Commerce Times.
Although the total loss was greater than analysts projected, Drugstore.com still beat analyst estimates, which do not take into account one-time charges, such as the amortization expenses noted by Drugstore.com.
The company reported a pro forma net loss for the quarter of $28.6 million, or 45 cents per share, excluding amortization of intangible assets and amortization of stock-based compensation. Analysts had been predicting a loss of 55 cents per share.
Some Improvement
"Despite all the doom and gloom, our increases in revenues and gross margins during the fourth quarter confirm the company's ability to earn customer confidence and loyalty," said Drugstore.com president and chief executive officer Peter Neupert.
Customers have also been ordering substantially more from the online drugstore in recent months, the company said. During the fourth quarter of 1999, the average revenue per order was only $38.
By the third quarter of 2000, the average order was $45, and increased again to $54 during the fourth quarter. The company also added 257,000 new customers during the quarter.
Big Picture
When the excluded costs are factored in, however, the company's net loss jumps to $43.1 million, or 68 cents per share. For the same period last year, the company reported a net loss of $43.5 million, or $1.02 per share, on net sales of $18.5 million.
Net sales for the quarter were $36.2 million.For the year, the company reported a net loss, excluding amortization expenses, of $143.1 million, or $2.64 per share.
When the amortization expenses are included, the company's net loss jumps to $193 million, or $3.56 per share, on net sales of $110 million.
Still, the year 2000 numbers were well above 1999 levels. The company's loss for 1999, including all charges, was $115.8 million, or $6.13 per share, on net sales of $34.8 million.
Workforce Slashed
Friday, Drugstore.com announced that it was laying off 125 employees, or approximately 20 percent of its workforce, and reducing its planned marketing expenses, in a bid to lower operating costs by $20 million in 2001. The move is the second round of layoffs in recent months. In October, the company pink-slipped 60 employees.
"Our strong fourth quarter 2000 results demonstrate that Drugstore.com can grow the business while making our cash last longer," Neupert said. "Over the previous six months, we significantly reduced expenses while still showing positive improvement on key metrics."
Added Neupert: "From our perspective, the cost-cutting steps announced [Friday] are practical and appropriate actions in response to today's market challenges."
Executive Exit
The company also said Friday that David Rostov, vice president of finance and chief financial officer, was resigning "to pursue other opportunities." Rostov will be replaced by Bob Barton, currently vice president and general manager of pharmacy operations.
Rostov will stay on for a few weeks to help Barton, who has been with thecompany in various financial management positions since its inception in 1998.
Great Expectations
Looking forward, Drugstore.com believes it can reach operating cash flow breakeven in 2004 with the cash it currently has on hand, approximately $130 million as of the end of the fourth quarter.
During the first quarter of 2001, the company said it anticipates net sales will range from $30 million to $31 million, with a loss of $25 million and $26 million, before interest, taxes and amortization.
Gross profit margins are expected to remain in line with the fourth quarter 2000 gross margin of 14.5 percent.
The company set its sales target for the year at $135 million to $145 million and is expecting losses before interest, taxes, and amortization to range from $83 million to $88 million. Gross profit margins are expected to continue to improve and will range from 14 percent to 16 percent, the company said.
Despite a reduction in marketing expenditures, Neupert said he expects Drugstore.com to add 200,000 new customers during the coming quarter.
Bottom Line
Although there were encouraging signs that Drugstore.com was on the right track, analysts remain fairly skeptical about pure plays.
"They still have a long way to go," Morningstar's Kathman said, adding that he was "not willing to make predictions" about the long term of pure plays.