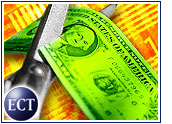 Cosmetics and beauty supply e-tailer Beautyjungle.com announced Wednesday that it is shutting down operations after failing to secure adequate financing.
In a brief statement, the company said it lacked the necessary capital to make its investments grow profitably and will lay off most of its 30 employees in New York, Chicago and Indianapolis, Indiana.
The Chicago-based firm is closing its namesake consumer e-tail site, as well as its business-to-business (B2B) exchange Beautywall, which targeted small and mid-size mass cosmetic retailers.
A minimal staff will be kept on hand to "ensure an orderly liquidation of assets," the company said, and customers who placed orders prior to the closing will have their transactions completed if the items are in stock.
Beautyjungle had to share the closure spotlight Wednesday with Garden.com, which announced that it is implementing a phased shutdown of its e-tail operations.
Setting Itself Apart
Launched one year ago, Beautyjungle entered the e-tail arena just as a host of other pure cosmetics retailers were trying to crack the Internet market.
Beautyjungle sought to distinguish itself from its rivals by selling a wide selection of brands: high-end cosmetics as well as mass beauty products found in neighborhood drugstores.
The firm also sought to set itself apart with an expansion into the B2B e-marketplace in September. Bolstered by a US$20 million second round investment, Beautyjungle expected the exchange to allow the company to adopt a dual strategy while differentiating it from other beauty e-tailers.
Flawed Makeover
Despite its efforts to attract a wide cross-section of customers and businesses, Beautyjungle had a hard time making its business model stick.
Last month it was forced to slash 60 percent of its workforce in a bid to trim costs. At the time, the company said it was exploring its funding options as well as the possibility of being acquired.
The company was backed by Divine InterVentures, an Internet holding company that specialized in e-commerce firms.
Market Gets Ugly
Tight market conditions in the e-commerce sector have triggered a wave of consolidation in recent months, and the beauty supply niche has been unable to escape the trend. Larger retailers seeking to expand their businesses have all but wiped out start-ups.
Last week, Sephora.com, the Internet arm of beauty supply and fragrance retailer Sephora, said it would purchase several assets of defunct beauty pure-play Eve.com, including its Web address, name and rights to use its customer list two times.
San Francisco-based Eve.com shut its operations last month after failing to tap additional funding for the company.
Earlier this year, Drugstore.com bought out Beauty.com in a stock deal valued at $42 million, while Estee Lauder acquired another competitor, Gloss.com, and said it plans to open a multi-brand site next year.