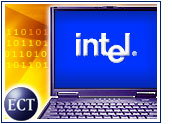 Intel has revealed that its fourth-quarter revenues reached a record US$8.74 billion, with net income of $2.2 billion, or 33 cents per share — more than double the year-ago tally. While some of those profits resulted from a tax break of approximately 9 cents per share, the company also took a $611 million writedown in the quarter.
Calling Intel a bellwether stock, Yankee Group senior analyst Laura DiDio told the E-Commerce Times that the company's 22 percent rise in revenues compared with fourth-quarter 2002 is good news for the economy — and an auspicious beginning for 2004.
"[Those numbers are] telling me that corporate enterprises are now loosening the purse strings on capital expenditures," DiDio said. "For the last three years, enterprises have kept from purchasing hardware, but they cannot hold off any longer. And Intel has 90 percent of the chip market, so [it is] in a good position to profit."
The company's net income gains were even more dramatic. According to Intel, net income rose 31 percent from the previous quarter and 106 percent from the fourth quarter of 2002.
High Note
Not surprisingly, the company seemed happy with its reported numbers.
"We ended the year on a high note as ongoing strength in emerging markets coupled with improving demand in established markets drove revenue to record levels," Intel CEO Craig Barrett said.
"Intel's substantial investments in capital and R&D over the past few years allowed us to ship record microprocessor units in 2003 and introduce exciting new products, such as Intel Centrino mobile technology," Barrett added.
Roger Kay, research manager for desktop PC hardware at IDC, told the E-Commerce Times that Intel's Centrino mobile chip was a big contributor to earnings because of an overall shift to mobile computing under way among both companies and individuals. Centrino is seen as a high-end product and commands a higher average selling price than comparable desktop chips, he said.
Strong Sales, Tight Budget
For her part, DiDio said Intel's earnings reflect increased overall demand for PC logic chips. "Laptop and consumer markets have gotten pretty strong because hardware prices on the whole have come down so much," she noted.
Although the rate of demand for processors has slowed in developed countries in North America and Western Europe, she said, it has not quite reached the saturation point. Chips still are selling at a robust rate in those markets.
More importantly, demand for Intel chips in Pacific Rim countries, Russia and India has more than compensated for slowing demand in the West. According to Intel's numbers, revenues in the Asia-Pacific region totaled about $3.48 billion, a 40 percent jump from the same quarter last year.
At the same time, DiDio added, Intel is watching its bottom line closely, staying under its $3.6 billion capital spending budget for new equipment. After all, the company has said it expects the first quarter of 2004 to be weaker than the fourth quarter of 2003.
Achievement Expected
Kay noted that although Intel's earnings per share surpassed official expectations, the company's numbers were not wholly unexpected in the current rising market. He said the economy is in its third quarter of "pretty good growth" and Intel benefits from that rise because it sells its chips to all players.
He also said Intel's yearly revenue growth from 2002 meets IDC's expectations, and the company's 152 million units shipped marks a record for the industry.