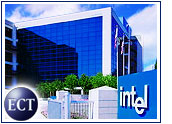 Underscoring the long-term potential it sees in applying technology advances to home entertainment, Intel has said it will dip into its US$200 million home-technology fund to back several startups in the space. The company's announcement came at its annual developers forum in Barcelona, Spain.
Specifically, the chipmaker said its Digital Home Fund has finalized investments in four companies working on new technology for cutting-edge wired-home spaces.
According to John Miner, president of Intel Capital, the chip giant's investment arm, the investments target the hurdles currently blocking the evolution of the wired home, where high-speed Internet connections become the pipeline for an array of information and entertainment.
"These four companies' technologies help solve key interoperability, bandwidth and distribution issues," Miner said, adding that the technologies will make it easier for consumers to manipulate music, games, photos and video on multiple devices "in the home and beyond."
Future Perfect
Intel announced the fund's creation earlier this year, and the fact that it already has identified a group of firms to back emphasizes that the company sees significant potential in the space, IDC analyst Bob O'Donnell told the E-Commerce Times.
"Intel is looking to accelerate the natural pace at which this technology would evolve and emerge," he said. "It's naturally going to pick and choose technologies and firms that are compatible with its own vision of the wired home, and that's going to improve its position in the space."
Each of the firms being backed already has products in the market, a further sign that Intel, like other tech firms, believes the so-called convergence market where computing and entertainment meet will take off this year, O'Donnell added.
Four on the Floor
Specific investment amounts and terms were not disclosed, though analysts said it is likely that Intel received at least short-term exclusive rights to the technologies in exchange for its backing.
The four firms that received funding are:
Digital 5, a Lawrenceville, New Jersey-based firm that sells networking technology that original equipment manufacturers (OEMs) can build into products, making it easier for music and video content to be shared among devices networked with or without wires;
Staccato Communications, a San Diego, California-based semiconductor design firm that focuses on using ultra-wideband technology to boost the speeds at which existing and emerging wireless devices can handle and transmit information;
San Francisco-based Trymedia Systems, which provides technology and services to PC-game makers that can help the companies make their games available to the public through the Web;
and Wisair, which is headquartered in Tel Aviv, Israel, and also focuses on ultra-wideband wireless communication. Wisair makes a low-power, high-speed chipset that could help make the connection between a computer and entertainment devices faster and more reliable.
From Many, One Vision
Intel's Winer said the range of investments underscores the company's belief that solutions for the wired home will not come from a single source, but rather from "weaving together innovations from many" different firms.
The Digital Home Fund is one of several specialty investment funds Intel has established. Others focus on communications, modular computing and mobile computing.