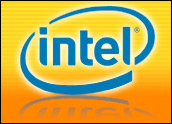 Intel, the leading chipmaker and one of the most closely watched technology sector bellwethers, cut its revenue forecast for the current quarter Thursday, citing market share erosion and weaker demand.
Sales will be between US$8.7 billion and $9.1 billion, the company said, substantially below the $9.1 billion to $9.7 billion range it projected in January when it reported fourth quarter earnings. Gross margin, a closely watched metric in the semiconductor industry, will be "adversely impacted," the chipmaker noted.
Failing to Meet High Expectations
The lower forecast is "primarily due to weaker than expected demand and a slight market segment share loss," said Intel.The company will offer no further comment on the quarter until its earnings report on April 19.
Intel offered no specifics on what was driving the outlook revision, including whether the change reflected adjusted expectations about the impact of Apple Computer's decision to switch from IBM-made chips to Intel's platform.
That shift, in combination with other forces — including new software rollouts from Microsoft that are on the horizon — could help keep demand for Intel's chips high for the foreseeable future. Intel has aggressively been expanding its production facilities to meet what it expected to be higher demand.
Hard-Charging AMD
Intel did not cite specific figures on its market share, but Advanced Micro Devices, the company's main competitor, recently reached its highest market share levels since 2002.
Intel will likely answer AMD's resurgence by reducing prices. There has been speculation that price cuts of up to 50 percent may have already been put in place — which would help explain why Intel warned on its profit margins.
Intel has been known to use its market position and pricing power effectively in the past, helping to keep AMD a distant No. 2 in the market.
The warning comes as Intel investors and analysts are especially watchful for clues on the state of the company and the industry. Intel missed revenue estimates for its fourth quarter, posting a 6.3 percent gain to $10.2 billion.
More importantly, inventories of chips at PC makers and other end-users are starting to grow, often the first sign of a slowdown in chip demand.
Help From Friends?
Intel may get a boost from longtime partner Hewlett-Packard, which has moved to champion Intel's Itanium for use in high-powered business servers, hoping to help accelerate adoption of a chip that has not lived up to pre-launch expectations.
AMD may be close to countering and trumping that endorsement, however, with Google reportedly close to making a major purchase. It appears Google is on the verge of buying a large number of servers loaded with AMD's Opteron chips, Morgan Stanley analyst Mark Edelstone said in a research note published this week.
Both companies have deferred comment on that report — Google says it does not publicize vendor relationships — but if it is true, it would obviously be a symbolic victory for AMD, given Google's prominence. It would represent a solid financial gain as well. Google intends to invest heavily in computing power in the coming year, the company indicated during its analyst day briefings on Thursday. It plans to offer increasingly robust Web services, likely spending tens of millions of dollars annually on servers.
AMD-based servers have been making significant gains, with shipments rising to 21.4 percent of the market in the fourth quarter to 17.7 percent in the quarter before, Mercury Research reported.
The chip race is likely to tighten if the market demand for PCs slows, Gartner analyst Martin Reynolds told the E-Commerce Times. That could put pressure on pricing, where Intel typically is seen having the upper hand because of its size, he added.
"Intel has bet heavily on the digital home market," even revamping its marketing program earlier this year, he noted. Intel may be able to turn early share wins in that market into larger profit margins, but that would take time, Reynolds concluded.