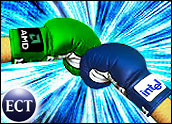 Skype has landed in the midst of a semiconductor industry battle betweenAMD andIntel. AMD, the No. 2 chipmaker, is seeking documents from theVoIP company about its dealings with market leader Intel, according to a Feb. 28 subpoena.
Skype, now owned by Internet auction gianteBay, has set up the second version of its software program so that Intel-basedPCs are required to make 10-person conference calls, which constitutes an anticompetitive move against the best interests of consumers, AMD alleged.
Since AMD's chips can perform the same function when running Skype technology, the company believes Intel may have coerced Skype into modifying the software code. Consumers with PCs using AMD processors are restricted to five-person calls.
Acting on Its Suspicions
Intel — by the legal standard — is a monopoly, said AMD spokesperson Michael Silverman.
"Not only is this anticompetitive — it's illegal. It's illegal because a monopoly, under antitrust law, is prohibited from engaging in anticompetitive — not to mention anti-consumer — business practices designed to maintain their monopoly position," Silverman argued.
Intel does not litigate matters in the press, said Intel spokesperson Chuck Mulloy, who asserted that the company's business practices are both fair and lawful.
"The fact that AMD has served a subpoena on another company isn't that new, given the fact that they've served subpoenas on roughly 50 companies in conjunction with the antitrust suit," Mulloy told the E-Commerce Times.
Dual-Core Controversy
AMD acted quickly on its suspicions following the Feb. 8 joint announcement that Skype and Intel are collaborating to optimize Skype for Intel dual core processor-based PCs and are planning to further enhance voice and video over the Internet. The first result of the companies' joint technical efforts is the availability of free, 10-way voice conference calling in Skype 2.0.
The new feature is available exclusively for home and business users with Intel Centrino Duo mobile technology-based laptop PCs, and desktop PCs based on Intel Pentium D processors, Pentium Extreme Edition processors, and the recently introduced Intel Viiv technology.
"By Skype's own admission, the exclusive nature of the 10-way calling feature with Intel dual core is temporary," AMD's Silverman said. "That only underscores our contention that there is no technological reason why AMD processors wouldn't be able to run 10-way calling."
The Bigger Picture
This is the latest chapter in an antitrust suit AMD filed against Intel in the U.S. District Court in Delaware in June 2005. AMD alleged Intel used scare tactics and coercion on 38 companies, including large-scale computer makers, small system builders, wholesale distributors and retailers.
Intel is the clear market leader, with its chips accounting for more than 80 percent of the computers running x86 processors, according to IDC. Its most recent coup was gaining Apple's business. The computer maker switched exclusively to x86 processors for running Mac OS software this year.