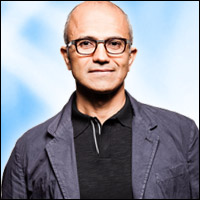 Satya Nadella on Tuesday took Microsoft's helm as its new CEO. Formerly head of the company's cloud and enterprise division, Nadella replaces the retiring Steve Ballmer.
Cofounder Bill Gates shed his chairmanship of the company, moving into a new role as technology advisor. John Thompson has taken over as chairman.
Nadella sent an email to Microsoft employees, which is posted on the company's website, to introduce himself and his vision.
Life Experiences
Much of what he does and thinks is informed by his family and life experiences, Nadella said. The 46-year-old has been married for 22 years — as long as he has worked at Microsoft — and has three children.
Nadella noted that many acquaintances say his curiosity and desire to learn are his defining characteristics. He said he buys more books and signs up for more online courses than he can finish, reflecting his belief that if one stops learning new things, one ceases to do great and useful work.
His family, curiosity, and thirst for knowledge define him, he emphasized.
Of course, those human traits combine with an assortment of company-oriented skills — like his engineering capabilities, business vision, and capacity to bring people together, as Gates noted.
'Do Amazing Things'
Nadella said he works at Microsoft for the same reason he believes many join the company: "to change the world through technology that empowers people to do amazing things."
Computing will become even more prevalent and intelligence will disappear into the background, he predicted, as consequences of the growing Internet of Things, increasing cloud computing capacity, Big Data insights, and machine learning intelligence.
Nadella paraphrased an Oscar Wilde quote in his email — "we need to believe in the impossible and remove the improbable" — to highlight his belief that Microsoft needs to be a boundary-pushing, ambitious company that enables customers to do more with their time and devices.
All the while, employees should strive to find meaning in their work, he said.
Cloud Push
"I really believe that this will eventually steer Microsoft towards cloud content and services, despite other comments I have seen from him indicating that Microsoft will remain focused on devices," Jim McGregor, principal analyst at Tirias Reseach, told TechNewsWorld.
"The cloud solutions are more aligned with Microsoft's core competencies and represent higher margins than the devices. However, in the race to compete with the likes of Apple, Microsoft will to continue to push the vertically integrated model from devices to the cloud."
However, elevating a man who was already a key part of the corporate structure may indicate that Microsoft does not wish to rock the boat too much.
"This is a transition to a senior person that has most of his professional experience with the company and was already part of the current strategy. So, don't expect any significant changes to Microsoft or its strategy, which in the long-term, could be bad for the company," McGregor added.
Influence Challenge
"Nadella's biggest challenge will be how much Ballmer and Gates will stick around and stay involved. Gates may have stepped down as chairman, but his influence still infuses the senior technical circles at Microsoft," Val Wright, principal at ValWright Consulting, told the E-Commerce Times.
"In a video interview with Steve Clayton, Nadella says he will 'ruthlessly remove barriers to innovation' and make sure that we 'focus on what we can uniquely do.' That is a fantastic aspiration, but it will take a gargantuan turnaround of a company known for its internal competition and focus on technology — not customer experience," she pointed out.
"To achieve his aspirations, he is going to have to switch his relationship with Ballmer and Gates and quickly get his executive team behind him and aligned on the new Microsoft strategy, because 130,000 employees are waiting to be inspired and refocused after five months of uncertainty," Wright suggested.
'Safe Bet'
"Nadella is an excellent choice and a safe bet for Microsoft," Laura DiDio, principal analyst at ITIC, told the E-Commerce Times.
"He's a 22-year veteran, and his bona fides as a technocrat and a proven manager as executive VP of the cloud and enterprise group are unassailable. That group brought in (US)$20.3 billion in revenue in the most recent fiscal quarter," she noted.
"It also helps that Nadella knows Microsoft from the inside out and outside in," said DiDio, referencing his prior tenure at Sun Microsystems.
"He's well respected by rank-and-file Microsoft employees," she added.
"That said, Nadella is hip deep in challenges," said DiDio. "The first order of business is to figure out how to keep the Windows and Office divisions profitable in the face of shrinking PC sales, and how to enlarge its footprint in tablets and stave off competitors that include Apple, Google and all the Linux vendors, to name a few."