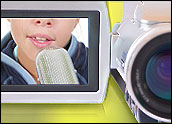 When I covered the 2007 Consumer Electronics Show for CNN, I wasn't just peeking into the future of technology. I was getting a very personal look at how technology is changing journalism and the consumption of news.
For the four days I was in Las Vegas, I was a true multi-platform journalist. Not only was I providing traditional live reports for CNN, Headline News and CNN International, I was also blogging for CNN.com, uploading digital photos (with accompanying snarky captions) for the tech section of the Web site, and, thanks to a flash memory-based microphone, I was providing audio podcast interviews that ended up on Apple's iTunes. A CNN.com camera crew following me around the Convention Center floor produced streaming video reports for the network Web site.
Yes, that's a lot of deadlines, but I loved every digital minute of it. Each of those newsgathering methods provided a different color of the journalists' palette for me. Little did I know that I was also playing right into the eager hands of a new category of news consumers, what the Pew Research Center for People and the Press calls "integrators."
Picking the Best
The latest Pew survey reinforces some of the key media chattering-class talking points for the past couple of years: Newspaper readership is declining, young people prefer their news from the Internet, and TV — warts and all — is still the top choice for most of those surveyed. But one of the key findings for me — and hopefully for all journalists — is that 23 percent of those polled are using both TV and the Web for news. These integrators, according to Pew, are middle-aged, affluent, well-educated and love their political and sports news. They watch TV but rely on online news while at work.
"The direction for the public is that this is not an 'either-or' decision," Michael Dimock, associate director for the Pew Research Center told me. "For a growing number of consumers, it's not that they're saying, 'The Web is here, I'm going to turn off the TV.' They're going to add to their sources. That may cut into their time — there are only so many hours in the day — but it doesn't mean eschewing the traditional sources of news."
It's definitely cutting into the time of print newspapers, which continue to hemorrhage readers to the advantage of online news. Yet despite the advent of blogs on the scene — particularly those with a political bent and tons of attitude — Dimock says consumers are racing to familiar sounding names; NYTimes.com, Washingtonpost.com, CNN.com, MSNBC.com; that is, when they're not going to the news aggregators like Yahoo or Google. "The established news brands will continue to be the brands that attract the public's attention," Dimock told me.
Net-Only Crowd Keeps Growing
The largest category — 46 percent of those surveyed — are still glued to their TVs; Pew calls them "traditionalists" because I'm guessing "grumpy old TV Luddites" was already taken. Yet the Pew findings also provide more fuel for the "Internet is the future" crowd; the percentage of those getting their news primarily from the Web — "Net newsers," in Pew's terminology — is still small at 13 percent, but aspects of the category show growth; those checking in on the Web at least three times a week have grown from 31 to 37 percent since 2006. More are reading Internet news than checking out the nightly news broadcasts, and about as many are watching cable news.
The median age is 35 and, like the integrators, they have lots of money and education. And they're more likely to watch Internet news video rather than network news, which will no doubt gladden the hearts of local and national news managers who have spent the last year trying to find more ways to get their content online.
Lessons for Journalists
The TV news landscape has been a bleak one this year. Local and national media outlets have laid off experienced, highly paid personnel, while attempting to come up with a Web strategy for the news-on-demand revolution. Those journalists still employed now gripe about having to file for their newspaper or TV station Web sites in addition to their normal workload.
Steve Safran is one of those helping news organizations deal with all this. Safran, who spent 15 years producing for traditional news outlets before becoming a senior VP for Web. 2.0 at the Dallas-based consulting firm Audience Research and Development, described for me the adaptation process for journalists who see the digital waters rising.
"Reluctant is how I would characterize it," Safran said. "I would say there's a direct correlation between how long someone's been in the business and that person's willingness to adapt."
But the Pew findings should be a beacon of hope for any capital-J journalist. "This means people really want our information. We just have to keep up with how they want it. It means they can't be platform-centric the way they used to be. For people to think the audience desire for news is going away, this flies right in the face of that.
"It's a terrific time for journalists to take their career into their own hands. It's always been a very passive career … you move up from market to market and you don't have to retrain yourself. But if you take the time to retrain, if you learn the new skills — and it's not a matter of new skills for journalism, those rules stay the same — you throw yourself to the front of the pack."
Media organizations and journalists who are knee-deep in this challenge can take a cue from those news-loving integrators in the audience. Veteran journalists should be open-minded about combining their love of storytelling — which drove them to this business in the first place — with the new technologies that can help paint a more colorful picture of the news. And instead of laying off news veterans, media companies should think first about new ways to use that experience on the digital side. Offer up more exclusive, quality content from journalists your audience have come to know and trust, and start placing online ads all around it.
That journalists' palette I spoke of earlier — the one that's transforming the business — can also help change red ink on a balance sheet.