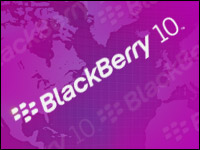 RIM is getting some positive government attention for the yet-to-be-released BlackBerry 10 platform.
Just months after U.S. Immigration and Customs Enforcement announced it would abandon its longstanding use of the BlackBerry system and give its employees iPhones instead, the agency has decided to give RIM another try.
ICE plans to begin testing the new BlackBerry Enterprise Service 10 smartphones in early 2013, according to RIM. It will be among the first government organizations to pilot the new BlackBerry product.
High Stakes
The government agency has the potential help RIM achieve a turnaround. Running the pilot program amounts to an early vote of confidence for the platform, which is set for release in late January.
"ICE has been a valued BlackBerry customer for years, and our commitment to government agencies has influenced the development of the BlackBerry 10 platform," said RIM's Scott Totzke, SVP for BlackBerry security.
The pilot program will provide ICE workers with secure access to confidential information behind ICE's firewall, along with additional new services and improved delivery. It will also increase organizational productivity, according to RIM.
When ICE made its decision to transition to the iPhone, it conducted a review of the major platforms, including BlackBerry, iOS and Android. At the time of the comparison, however, ICE was looking at BlackBerry 7.
"ICE was saying they had relied on RIM for many years, but it became brutally clear that RIM wasn't meeting their requirements," Wayne Lam, senior analyst for wireless communications at IHS iSuppli told the E-Commerce Times. That was why the agency announced the move to Apple.
"Evaluating BlackBerry 10 is definitely a promising step for the BlackBerry platform," he noted. "It gives RIM an opportunity to showcase a product."
Security Trump Card
RIM was not specific about what additional services BlackBerry 10 promises, but the company did say that the platform has received FIPS 140-2 certification ahead of launch. FIPS 140-2 is a Federal Information Processing Standard that addresses security requirements for cryptographic modules.
When it conducted its review of BlackBerry 7, Android and iOS, ICE considered such traits as security, predictability and commercial viability. Security-wise, RIM was superior to the others even at the BlackBerry 7 platform level. However, it scored lower for predictability and commercial viability, as well as product uniformity.
"The decision to go with Apple was [based on] the fact that it could fill all three of these features," said Lam.
Security is one of the many qualities ICE evaluated; however, it is an important one for a government agency. The FIPS 140-2 compliance helps edge BlackBerry 10 back into the good graces of the government agency.
"BlackBerry has a better security story," Roger Kay, principal at Endpoint Technologies Associates, told the E-Commerce Times. "It would be strange if it weren't acceptable to ICE."
RIM has provided early support for its group of developers to populate the platform with apps on day one. It is likely that ICE staff and independent developers are already working on apps that will serve the agency.