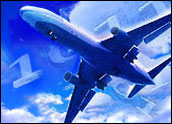 Financier Carl Icahn said Thursday he is ready to put up US$400 million to help his discount travel Web site Lowestfare.com buy or build its own airline.
"The business and last minute leisure traveler has been forced by the major airlines to pay inordinately high prices," said Icahn, chairman of Lowestfare. "There has never been a greater opportunity for a well-capitalized, low-cost airline."
Icahn added that the management of Lowestfare.com "is in discussions to that end and will pursue any and all opportunities that arise."
Founded in 1995 and launched on the Web a year later, Las Vegas, Nevada-based Lowestfare said it now has about 3.5 million customers. The company, which sells tickets directly to consumers as well as through travel agents, has said that its revenues from the Internet grew by 300 percent from 1999 to 2000.
Lowestfare.com was built primarily on the foundation of a flow of steeply discounted tickets for TransWorld Airlines (TWA). Icahn, a former TWA chief executive officer, gained access to the cheap tickets after he agreed to forgive millions of dollars worth of loans owed to him by the struggling airline.
Blamed for Bankruptcy
When it filed for bankruptcy last year, TWA said that the cheap tickets that Icahn had the right to buy for 55 percent of their face value caused as much as $100 million in losses.
"TWA blamed the ticket agreement in part for its financial condition, but we believe we provided a great deal of business that the airline would never have otherwise realized." Icahn said.
Changing Times
Icahn's move to find an airline for his travel Web sitecomes at a time when the online travel industry is undergoing several major shifts.
Earlier this month, Northwest and KLM Royal Dutch Airlines said they would stop paying commissions on Internet ticket sales, prompting leading online travel company Travelocity to say it would charge an added handling fee for tickets on those carriers.
Travel sites are also anxiously awaiting the planned launch of Orbitz, a site created by most of the major North American airlines to sell tickets directly to consumers.
Hot Ticket
Meanwhile, travel continues to become a bigger part of e-commerce, accounting for $1.2 billion and one-third of all e-commerce transactions for the month of January, according to a study by Nielsen//NetRating and Harris Interactive.
Icahn said his fledgling airline would compete head-to-head with an established carrier in a major city. Though he did not name a competitive target, he left no doubt that there is no love lost between him and American Airlines' parent company, AMR, which won the right to resurrect TWA from bankruptcy.
"I believe there was absolutely no reason for the bankruptcy and sale of TWA to AMR," Icahn said.