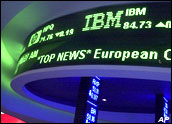 IBM's stock surged more than 9 percent to US$89.61 per share on Wednesday after Big Blue beat Wall Street expectations with its fourth-quarter financial results and predicted it would maintain high profit levels all the way through 2009.
IBM reported $4.4 billion in earnings during the fourth quarter, up 12 percent compared to $4 billion in earnings during the same period in 2007. Fourth-quarter revenue was $27 billion, a 6 percent decrease from the fourth quarter of 2007.
For the full year of 2008, Big Blue reported $12.3 billion in earnings, up 18 percent compared to $10.4 billion in earnings in 2007. Total revenues were $103.6 billion, up 5 percent over 2007. IBM also generated $14.3 billion in cash in 2008.
However, the news that Wall Street seized upon was IBM's guidance for the rest of this year. The computing giant said it expects to deliver $9.20 per share in earnings in 2009.
IBM's results helped push the Dow Jones Industrial Average up 1.56 percent to 8071.72 and the Nasdaq National Market up 1.79 percent to 1,467.7 in mid-day trading on Wednesday.
How Do You Spell Relief? I-B-M
Just one day after the major stock indexes were hammered on dismal reports from the financial sector, IBM and HP helped bring the markets back to life.
"IBM gave us the rally we needed," Colin Gillis, director of research at TheStreet.com, told the E-Commerce Times. "It was IBM's 2009 outlook that cheered everyone."
IBM reported that its global services division signed long-term contracts worth $17.2 billion during the fourth quarter. Twenty-four of those contracts are worth more than $100 million apiece and should help sustain IBM's profits through 2009.
"Corporate America still has the most cash on its balance sheet ever," Gillis said. "IBM showed that the enterprise space is still hanging in there. It's not that it's necessarily a robust environment out there — it's that IBM is a well-run company that's serving the enterprise customer."
Gillis noted that lower tax rates, share buybacks and cost containment also helped IBM grow profits.
Big Blue Says 2009 Looks Good
While thousands of jobs have been shed in the technology sector since the economic meltdown began last fall, IBM CEO Samuel J. Palmisano said on Wednesday that the company has no plans to cut employees.
"For a company that generated $14 billion in free cash in 2008, it's reasonable for them not to reduce head count," said Gillis. "They're making ample profit."
However, IBM's robust 2009 outlook is surprising, he continued, "because there's so much dismal news floating around and there's concern about bank lending."
Unlike many of its brethren in the technology sector, IBM has no exposure to the consumer market. The company is completely focused on business customers.
"Both IBM and HP have the kind of structure that allows them to weather a long-term economic downturn, because they have a lot of long-term contract work," Rob Enderle, principal analyst at the Enderle Group, told the E-Commerce Times. "Corporate America has been consolidating data centers and trying to use technology to cut down on operating costs, and that's what IBM does very well — so it tends to be in high demand during times like this."
So, is IBM's 2009 guidance realistic?
"For all we know, it could be a conservative estimate," TheStreet.com's Gillis said.
Enderle, however, wasn't quite as sanguine.
"I'm not convinced any guidance is really realistic, but IBM's is as realistic as the market can get, given where the economy is," he said. "Compared to other companies, IBM will have a better gauge as to where their revenues are."