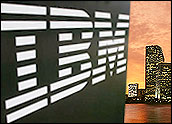 IBM announced Monday a new set of social networking tools that offer enterprise-wide, controlled MySpace-style environments to corporations.
Big Blue is billing its Lotus Connections platform as the "first business-ready social software platform," saying it is one part of a broader array of Lotus offerings meant to take advantage of real-time presence and communications capabilities.
Whereas several social networking sites aim at helping businesspeople build connections to enhance their careers and business prospects, Connections can provide corporations with ways to control what employees do in the social networking arena.
Connections will also fold into other so-called Web 2.0 capabilities, including Web page bookmark sharing tools, or tagging, and a blog search function.
"Enterprise-ready social software, portals, e-mail, integrated document collaboration and unified communications are all strongly linked elements of Lotus' open software portfolio," said Michael Rhodin, general manager of IBM Lotus.
The software package — which debuted at IBM's annual Lotusphere conference in Orlando, Fla. — also includes Lotus Quick, a collaborative content creation platform and an upgrade to Lotus Sametime.
Connections comes with instant messaging and other communications tools, which IBM said are designed to work with many Microsoft programs.
The launch further heats up the rivalry between IBM and Microsoft, who are among the top players vying for dominance in the real-time communications and collaboration software space.
Converging on Collaboration
Connections offers a dashboard-like view of current projects — and the content and human connections that apply to them — divided into the following five categories:
Activities, where shared documents can be stored and updated;
Communities, where contacts can be found and stored;
Dogear, a shared bookmark tool;
Profiles, where backgrounds of contacts can be kept and updated; and
Blogs, which uses RSS technology to feed selected content to users.
Employees can create communities and then allow others to join, creating a controlled social networking environment, IBM said, and allowing outside connections to join an internal network when appropriate.
Connections can unlock a business's collective knowledge base by letting workers share their experience with others. For instance, someone with a certain type of project can get feedback from someone who has already completed a similar task.
IBM said the platform will be available in the coming weeks. Pricing has not yet been finalized.
The product arrives as research firms claim that social networking is already gaining popularity within business settings, with sites such as LinkedIn flourishing as vehicles for professionals to cultivate job opportunities, sales leads and other connections.
Head to Head
IBM said Connections will integrate with Microsoft Active Directories, making it easier for companies to integrate the platform with Microsoft networks.
Microsoft answered back, meanwhile, using the start of Lotusphere to launch a new effort to convince users to migrate from Lotus Notes and Domino to Microsoft products, especially the recently released Exchange Server 2007, which includes built-in, real-time collaboration and communications tools.
Forrester Research analyst Josh Bernoff said the Google purchase of YouTube last year underscored the value that many see in social networking and other forms of social computing.
The elements that make social networks valuable on the Web can apply in many business settings and, in fact, can be even more powerful if harnessed correctly, he added.
Other companies are targeting the same opportunity to bring social networking into enterprises. Startup Visible Path, for example, launched last year promising to create a business-specific networking tool.
IBM, Microsoft and Ozzie
With its Lotus product line, IBM claims ownership of some of the most mature collaboration tools, including first-generation messaging services and Web-based spreadsheet programs. Microsoft counters with collaboration tools of its own, many based on the work of former Lotus engineer Ray Ozzie.
Microsoft brought Ozzie aboard when it purchased his peer-to-peer company, Groove Networks. Ozzie now serves as Microsoft's chief software architect, a title previously held by Chairman Bill Gates.
Research published by Gartner shows that both IBM and Microsoft are frustrating some business customers with their rather basic collaboration tools, including e-mail and shared calendar functions. Many businesses are exploring new options as well, Gartner analyst Tom Austin said.
"Both Microsoft and IBM are losing customers to each other," Austin added.