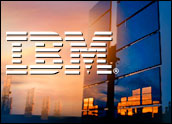 IBM posted sharply higher profits for its fourth quarter as software and services paced the technology giant, but some weakness in hardware sales led investors to sell off Big Blue shares.
IBM said Friday that net income was US$3.54 billion, or $2.31 per share, up 11 percent from the same time frame in 2005. Revenue was up 7.5 percent to $26.3 billion, beating most analyst estimates.
"IBM had a terrific quarter and a good year," said CEO Samuel J. Palmisano. "We are well-positioned in the growth areas of a changing IT industry, focused on our evolving business model and poised for long-term success for our clients and shareholders."
For all of 2006, revenue was $91.4 billion, up 4 percent when comparisons from the previous year exclude the company's personal computer unit, which IBM sold to China-based Lenovo.
IBM said it ended 2006 with more than $15 billion in cash, $2.2 billion more than the previous year.
Software and services paced the company's quarter and while hardware sales were up — rising 4.3 percent — that growth was slower than Wall Street had predicted.
Riding Too High?
Investors sold off IBM shares in early trading Friday, sending the stock down more than 4 percent, to $95.03. Other tech companies felt the strain, as well, with Dell, Hewlett-Packard and Sun Microsystems all lower on the session.
Though it has changed its focus by divesting itself of its thin-margin PC business, IBM remains a closely watched technology bellwether with huge exposure to IT spending trends at major global corporations.
During late 2006, those trends appeared favorable, helping to make technology stocks a favorite of investors.
IBM's services unit, which is benefiting from an outsourcing trend in large organizations, signed some $17.8 billion worth of contracts in the fourth quarter — a 55 percent year-over-year jump — including deals with the German military and the state of Texas.
The company said it ended the year with a nearly $12 billion backlog of services work still to be completed.
Software sales were up 14 percent to $5.6 billion, meanwhile, and the company's middleware lineup — which includes products sold under the WebSphere, Tivoli, Lotus and Rational brands — rose 18 percent. Lotus software sales alone, which includes messaging applications, rose some 30 percent.
IBM posted a strong quarter in many geographical regions, including North and South America, where revenue was up 6 percent, from Europe, Middle East and Africa, where sales rose 11 percent, and the Asia-Pacific region, where revenues grew 7 percent.
Crowded Houses
Any weakness in hardware sales could be significant because it could represent opportunities for rivals to gain a foothold with IBM customers. For instance, storage giant EMC has rolled up a number of software firms to offer a more complete menu of services to customers; in addition, both HP and Dell have targeted the same markets.
Sun Microsystems has taken aim at IBM with a heavy emphasis on Linux open source operating software. Microsoft announced in December it would partner with HP on a three-year, $300 million effort to sell more software and services to large companies.
IDC Chief Research Officer John Gantz said IBM is seeing more rivals assemble the technology and capabilities to offer complete solutions to enterprises, with a single vendor supplying hardware, software and service support.
The HP-Microsoft hookup is aimed at keeping Windows in the mix at enterprises as well, Gantz noted, and to help slow the move toward Linux in those settings.
Meanwhile, IBM posted a "solid" quarter but said the recent run up in tech stocks have made many of the top names too pricey for their performance and their outlooks, Merrill Lynch analyst Richard Farmer said.
"We prefer to wait for an entry point that reflects more investor skepticism," he said in a research note.
Others remain upbeat, with a Citigroup analyst raising his price target on Big Blue shares to $115, a 10 percent increase based on strong fundamentals at the company.