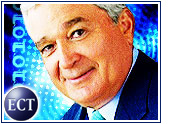 IBM (NYSE: IBM) fell US$2.39 to $112.81 inmorning trading Friday after Bear Stearns lowered its rating on the computercompany's shares.
Analyst Andrew Neff said he downgraded IBM to "attractive" from "buy" to reflect"concern about the narrowing for the potential upside" in light of"valuation concerns" and tough comparisons for second-half results.
In a research note, Neff said company officials were "confident and upbeat"at a meeting with analysts Thursday, but did not provide details about thecompany's plans for its personal computer business.
Neff said IBM shares are trading at a 10 percent premium to the market, andgenerally has peaked at a 20 percent premium. Moreover, he said, the stock"has often stalled in the face of difficult comparisons," and second-halfresults will be tough to compare with previous reports.
Neff said that while company officials set a "confident and upbeat tone" atthe analyst meeting, they "did not provide any business update, and focusedon the strategic strengths of [IBM's] business portfolio."
"Chairman Lou Gerstner emphasized that IBM's strategic opportunities are inservices, software and OEM technology businesses, and that the PC businessis clearly not a strategic part of IBM's roadmap, but did not give any senseof an action plan for the PC business," wrote Neff.
IBM last month reported an 18 percent risein earnings for the quarter ended March 31st. Net income for thequarter rose to $1.75 billion, or 98 cents per share, from$1.52 billion, or 83 cents, in the same period last year. Revenue rose 9percent to $21 billion.
Gerstner said at the time that the company saw "momentum" beginning in thelatter part of the year.
"Times like these play to our strengths as adiversified, services-led company," Gerstner said.