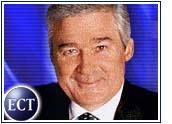 IBM (NYSE: IBM) announced Wednesday that it is investing over $1 billion (US$) to develop and promote its core Internet middleware technology, the IBM WebSphere software platform.
The infrastructure software helps companies at each stage of e-business development: from startup, to supply chain management, to high volume Web transactions. Middleware — the layer of software between computer operating systems and Web applications — has emerged as one of the most important technologies of the Internet era, according to IBM.
Calling WebSphere "an integrated set of technologies that addresses every phase of e-business," John Swainson of IBM's middleware group said, "Customers don't have to search out the pieces or worry about how they'll all fit."
Middleware Market
Research firm Giga Information Group puts the market opportunity for middleware at $1.6 billion this year, up from only $585 million last year. By 2003, the middleware market will reach $9 billion, according to the firm. Giga also predicts that by the end of this year, IBM will have a 24 percent share of the market — up 50 percent from last year.
The new WebSphere software platform is based on IBM's application framework for e-business. It consists of three layers: the Foundation, Foundation Extensions and Application Accelerators. Together with IBM's partner and customer applications, the platform enables companies to integrate business processes, deliver them to the Web, and modify them to address market demands.
IBM says that the WebSphere software platform has evolved from a collection of Web application servers to a family of end-to-end e-business software. New features will allow companies to identify individual user needs for information and applications, and customize content for delivery to the user on a variety of devices from PCs to smart phones.
Where the Money is
Big Blue will be spending its $1 billion on hiring, product development, and marketing campaigns designed to help companies using middleware to prosper from e-business.
This year alone, IBM plans to hire more than 1,000 engineers and sales professionals to work on the WebSphere product and market it to five million developers.
The $1 billion investment brings the total investment in the project to $2 billion.