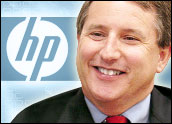 HP's board of directors has launched an internal investigation into the circumstances of former CEO Mark Hurd's departure from the company. The investigation was disclosed in a filing to the San Jose, Calif., federal court on Jan. 14.
Hurd resigned from the company in August 2010 following allegations of misreported expenses and an alleged affair with marketing contractor Jodie Fisher.
This is the third investigation to deal with Hurd's firing. HP previously began in investigation into Hurd's behavior with Fisher that it dropped when it sent Hurd packing. The U.S. Securities and Exchange Commission is currently looking into whether Hurd violated insider trading rules.
This new internal company investigation is a response to a shareholder lawsuit stating that Hurd's severance package of US$12 million in cash and generous stock options totaling about $30 million was excessive. The shareholders believe that HP had enough information to fire Hurd without requiring the big budget severance.
HP has chosen two board members who joined after Hurd's exit and an independent team of lawyers to conduct the probe.
The SEC's investigation is looking at allegations that Hurd told Fisher insider trading secrets concerning the company's $13.9 billion acquisition of Electronic Data Systems months before it occurred.
After his departure, Hurd joined one of HP's competitors, Oracle, and was named co-president by CEO, Larry Ellison.
HP declined to comment to the E-Commerce Times for this story.
Plenty of Trouble to Go Around
HP in part wants to finish what it started before Hurd left.
"I think HP has opened its own investigation because Mark Hurd shut down their investigation when he settled with Jodie Fisher," Rob Enderle, principal analyst at the Enderle Group, told the E-Commerce Times. "HP was in the middle of trying to figure out what did or did not happen when Mark Hurd settled and she moved out of the state. That left the board not knowing what happened."
With an allegation as serious as insider trading, HP needs to know what transpired.
"When you have a significant possibility of inside trading, it becomes a problem," said Enderle. "They can't risk-assess it. They don't know what their exposure is. They want to find out where they are. The board is also required to do due diligence, so they had to do the investigation."
These new details could make Oracle's decision look sloppy. "It does create an exposure for Oracle," said Enderle. "The CEO shouldn't look incompetent, especially at Larry Ellison's age. If he were younger, that would be one thing. This could look like Larry Ellison acted on his emotions. Because of his age, people are already wondering if he has overstayed his welcome. If you're on Oracle's board, you don't even want the appearance of infirmity in your CEO."
Shaky Severance?
Hurd's move to a competitor could be a problem for HP, especially if he has loose lips.
"Typically, when an executive arranges to leave a company, the severance package is based on an agreement between the company and the executive," Charles King, principal analyst at Pund-IT, told the E-Commerce Times. "When Hurd was hired at Oracle, HP was concerned whether he would be able to — as an executive of a competing company — keep HP company secrets."
Hurd's violations of company conduct could breach his severance pay contract.
"If there were issues around maintaining silence about company secrets, and if there was interest by the SEC that Hurd had revealed insider information to Fisher, that would have negated the agreement over his severance," said King. "The concern would be whether he did anything while he was an employee or afterward that compromised his severance. It's probably a contractual issue about whether he acted in good faith."