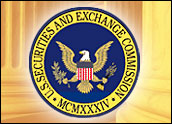 The U.S. Securities and Exchange Commission has apparently opened an inquiry into former HP CEO Mark Hurd's sudden departure from the company last August. The SEC is looking into whether Hurd leaked information about HP's planned US$13.9 billion acquisition of Electronic Data Systems to Jodie Fisher, an HP contract event coordinator, according to media reports.
Hurd left HP after an internal investigation found he violated standards of business conduct by concealing a personal relationship with Fisher. The internal investigation was prompted by a letter from Fisher's attorney that contained allegations of sexual harassment. Hurd denied the allegations to the HP board. HP also found inconsistencies in Hurd's use of corporate expenses in his dealings with Fisher. The board ultimately decided to dismiss Hurd.
Oracle CEO Larry Ellison came to Hurd's defense, publicly criticizing HPs board for ousting him. Oracle subsequently hired Hurd as a co-president.
While the SEC inquiry has not been officially made public, HP did acknowledge in a statement that an inquiry has begun.
"HP is cooperating fully with the SEC on its investigation," HP spokesperson Mylene Mangalindan told the E-Commerce Times.
The SEC and Oracle did not respond to the E-Commerce Times' requests for comment by press time.
Consequences Could Be Severe
If the SEC is investigating the leaking of information about HP's planned acquisition of EDS, there could be significant consequences for Hurd, especially if the allegations are found to be true.
"If there are charges, they are pretty serious charges," Charles King, principal analyst at Pund-IT, told the E-Commerce Times. "Once a senior executive becomes known as someone who talks behind an employer's back, it's hard to come back from that character failure. If Hurd is convicted of this type of disclosure, his employment in technology is over."
The consequences for HP will not be significant, according to King. "They'll see little slap-back from this. They very forcefully ejected him from the company."
Oracle, on the other hand, could be stung if the allegations are proven.
"Given the kind of public statements made by Ellison and his decision not just to come to Hurd's aid publicly, but to hire him into a significant position with Oracle, I can't see that it would be anything but a massive embarrassment for Oracle," said King.
Pillow Talk Ramifications
With the SEC moving to an inquiry, it suggests the HP board may have known the allegations against Hurd were substantial.
"It had to have been more than just smoke for them to fire him so summarily," Laura DiDio, principal analyst at ITIC, told the E-Commerce Times. "I don't know what it might be. If he was involved with this woman and did let out trade secrets, that's serious stuff."
The fact that the SEC is undertaking an investigation suggests there may be concrete indications of wrongdoing.
"They have to have some evidence for an investigation," remarked DiDio. "This is going to take several months. It's gong to take expense, and it's going to take time. A lot of people — including Hurd and Ellison — are understandably nervous and concerned. Hurd will have to spend time defending himself, and that will give him less time for Oracle's business affairs."
SEC charges against Hurd could affect the security of his employment at Oracle.
"Larry Ellison doesn't not want a government body involved," said DiDio. These titans of Silicon Valley have become used to doing things their way, but when they suddenly come up against the ultimate alpha — the U.S. government — even they have to back down."