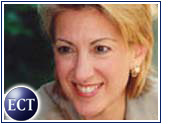 Canada-based Nortel Networks (NYSE: NT) and Hewlett-Packard Co. (NYSE: HWP) announced plans Monday to develop a mobile Internet service that will initially focus on businesses with employees in remote locations.
Nortel, which has extensive wireless communications operations, and the San Jose-California-based HP said they will work on "mobile portal solutions, wireless devices and networking solutions, and other mobile e-commerce service solutions, such as m-commerce services."
The companies will offer mobile Internet access through Nortel's wireless network, allowing users to roam between networks without losing their Internet connections or Internet protocol addresses. The system will also speed up public mobile wireless data links to allow users to send and receive e-mail and attachments, conduct e-commerce transactions and surf the Web.
Wireless Expansion
Nortel estimates that the global market for wireless infrastructure will reach $200 billion (US$) by 2003, and the market for mobile portal products will be $11 billion.
The company, which recently set up headquarters in Paris for its global wireless Internet services, said it will add 2,000 new technology jobs in Europe as demand for its services continues to grow. Nortel's wireless services are available over WAP phones, Windows CE and Palm OS handheld devices.
HP and Nortel said they may collaborate on other wireless Internet opportunities, including m-commerce solutions that will allow businesses to integrate their sales, marketing and service operations with the Internet.
More Ventures
The announcement is the second major e-commerce development for HP in recent days. Last week, the company said it will link up with Japan's Softbank to create an e-commerce company to sell computers, printers and other technology products to Japanese consumers.
As part of that deal, HP will supply products and services for the new company, while Softbank will handle the development and management of the Web site. HP and Softbank expect the venture to be up and running by the fall, in time for the peak selling season.
The two companies are also reportedly looking at other ventures, including a possible online banking service.
In a separate announcement, HP said Friday that it will offer a new media publishing service that will allow publishers to format content and advertising, and deliver it to subscribers using a variety of multiple Internet appliances, such as cell phones, personal digital assistants and laptops.